League News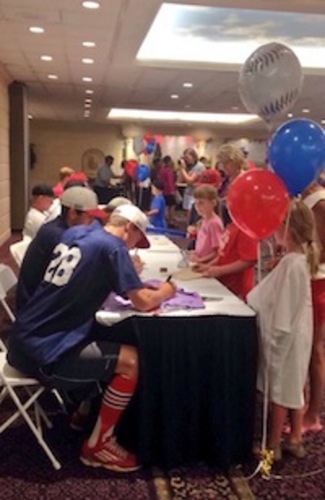 07/11/2015 3:18 PM
Article By:
Rain couldn't dampen the spirit and excitement Friday at the Cape Codder Resort & Spa in Hyannis, which was filled with enthusiastic fans and baseball players alike at the fourth annual Cape Cod Baseball Day.
The purpose of the event was to give the community an opportunity to get to know the Cape Cod Baseball League players, umpires and the league itself a bit better. Players from all 10 teams were present, rotating shifts throughout the day.
"This is my first time at this event," the Falmouth Commodores' Boomer White said. "It's really neat. I didn't know what to expect. We were talking to the guys who did it last year and they said they had a lot of fun. It's kind of cool to see the little kids' excitement when they come around and get some autographs from us."
Making kids' days was a highlight for several players. As Blake Fox of the Wareham Gatemen said: "Just being able to sign autographs for these kids is the best part. It's always fun to talk to them. They're a little bit shy, but it's fun when they loosen up. We just had a kid show us how fast he was. So it's always fun."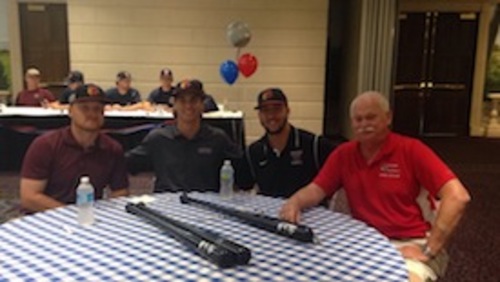 Second year-player Gavin Pittore of the Bourne Braves spoke of the relationships an event like this builds and the excitement it creates for youngsters. "I'm a Boston guy (Roslindale) so I guess I have a different perspective on the whole thing.
"I grew up idolizing the league and these guys. So just to be able to be down here last year was an honor, and to be down here again is unbelievable. That's the kind of the thing the Cape League does, (which) is build relationships that will last forever. I have a great time."
Alongside players and umpires were displays from the Cape League Hall of Fame, Barnstable Bat Co. and 99.9 the Q, a local FM station.
The Barnstable Bat Co.'s Tom Bednark has been a part of this event since its inception four years ago.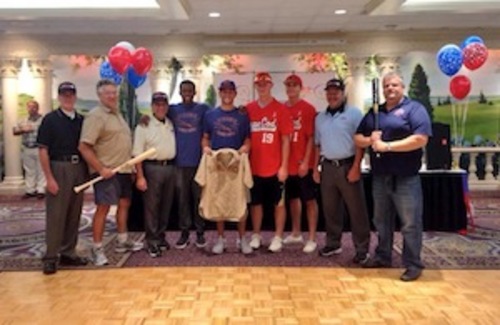 "We've been coming to this event for the Cape Cod League for the last four years," Bednark said. "This is the first year we've had it indoors but it's always a very pleasurable outing. A lot of nice people come by and enjoy the day. Looking at all the memorabilia, getting autographs from players, seeing our little bat display, and enjoying the hot dogs, chips, and soda, and the ice cream. I would encourage anybody next year to come and enjoy a few hours with the Cape League. "
Matt Pitta of 99.9 the Q also has been to this event annually and loves it.
"It's just an amazing way for the kids and the fans of the Cape League to meet the players up close and personal and get their autographs," Pitta said. "A lot of these players are going to be in the major leagues. We know that. So it's a chance to meet future major leaguers and get their autograph. It's a great time, it's a great event and it's just a great way to celebrate the nation's No. 1 summer collegiate baseball league."