League News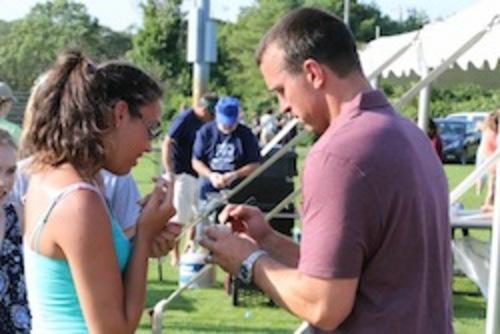 07/16/2015 7:40 PM
Article By:
Gosnold on Cape Cod will be presenting "Playing Above the Influence" for the second time this Cape Cod Baseball League season.
After a highly successful presentation in June at the Bourne Braves field, the Orleans Firebirds and the Brewster Whitecaps are happy to be co-hosting this event tomorrow, Friday, July 17, from 5-6:30 p.m. at Eldredge Park in Orleans.
This unique event was able to bring together two teams for a very powerful event. "Teams work together an awful lot and the coaches work together but this was the perfect chance to demonstrate a partnership and cooperation," Firebirds president Gene Hornsby said.
Gosnold, the leading provider of addiction and mental health services on Cape Cod, presents former Boston Celtics player Chris Herren as the special guest of the event, which also will feature numerous community members providing a great deal of activities and prizes for all family members.
After completing intensive rehabilitation programs, Herren has been alcohol and drug-free since 2008, and speaks to groups throughout the nation about his battle with drug abuse and how he is overcoming it.
"Chris shows what can happen, you have a great career and good skills and you can still make mistakes. It shows the price you have to pay when you are hooked on drugs and other substances," Hornsby said.
"We have two audiences here. One is the kids; we hope that will help some folks in our region. We know there is a big drug problem on Cape Cod," Hornsby added. "We have a second audience, which is the players. The players should be able to relate to Chris a lot, being a former professional athlete. I'm sure that message will be coming through very strongly. Chris will speak with the players privately about his experiences in a way to teach the players to learn from him."
Firebirds and Whitecaps players will be on hand to meet spectators and will face each other for a 7 p.m. first pitch following the event.
Orleans, Brewster and Wellfleet police cruisers will be on hand for attendees to experience. Other activities include a K-9 demonstration by the Barnstable County Sheriff's Office, an obstacle course with fatal vision goggles, and a slip-n-slide created by the Fire and Rescue Department.
The event is free and all are welcome to attend. Food will be provided. WQRC (99.9) will be airing live and giving away an autographed baseball and various gift certificates will be awarded as raffle prizes. Event T-shirts, which were provided by the Cape Cod Five Foundation, also will be handed out at the event.
This event, designed to promote substance-free activities available for everyone on Cape Cod and an opportunity to interact with positive role models, is sponsored by the Barnstable County Sheriff's Office, Cape Cod Five Foundation, Cape Cod Baseball League, Cape Cod Broadcasting Media, Cape Cod Ready Mix, Convention Data Services, Kaleidoscope Imprints, Nauset Disposal, and Nauset Marine.
For more information, please contact Patricia Mitrokostas, director of prevention at Gosnold on Cape Cod, at 508-540-2317 or [email protected].