League News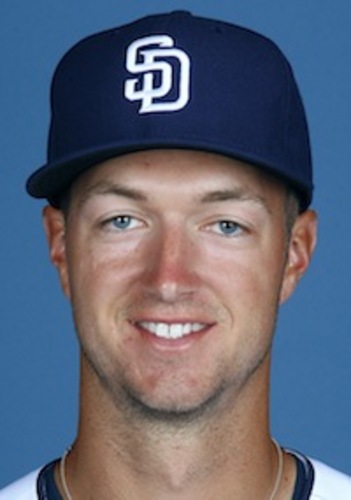 08/12/2015 7:17 AM
Article By: CCBL Public Relations Office
The Hyannis Harbor Hawks' quest for the Mycock Trophy was stalled by bad weather Tuesday night, but 3,000 miles away in San Diego, which boasts some of the best weather on the planet, a Hawks alum enjoyed a night bordering on the sensational.
Rookie pitcher Colin Rea (Hyannis, 2010) had been called up from the minors by the San Diego Padres to face the Cincinnati Reds. The right-hander was 2-2 with a 4.39 ERA in six starts for Triple-A El Paso after being promoted from Double-A San Antonio on July 3.
The former Harbor Hawk is the 50th former Cape Cod Baseball League player to appear in his first big league game this season.
With a contingent of some 75 family members and friends from Cascade, Iowa, looking on, Rea not only picked up his first big league win, allowing three runs in five-plus innings, but he also got a hit in his first at-bat and made a nice fielding play to start a double play as the Padres rolled to an 11-6 victory at Petco Park.
"It's definitely an experience I'll never forget," said the rookie, who is ranked as San Diego's No. 2 prospect.
Things were a little rough at the start, though. Rea allowed the first two batters of the game to reach base, as Brandon Phillips singled and Skip Schumaker walked. As his personal cheering section shuddered, Rea remained poised and pitched out of the early trouble.
He got Joey Votto to roll a ball back to the mound, triggering a 1-6-3 double play to escape the inning unscathed.
"A lot of credit has to go to (catcher Austin) Hedges," Rea said. "He had great control behind the plate. He did a great job calling pitches ... Right there for the double play, luckily I was able to get my glove up in time to snag it. Obviously, (I was) a little nervous to start the game, but thought I settled in pretty good."
Hedges, who had caught Rea in the minor leagues, said: "I couldn't tell (whether) he was pitching in a low-A game, a Double-A game or a big league game. He was out there poised and competing."
Leading off the second inning, Rea singled to left field off Reds pitcher Michael Lorenzen (Brewster, 2012). He later scored one of the Padres' five runs in the inning.
"I was up there kind of taking until I got a strike. Luckily, I got one. That was pretty much the only spot where I was going to touch the ball, and luckily it just got over the shortstop's head," Rea said.
Rea became the fourth pitcher in franchise history to get a hit in his first career plate appearance and the first since another Cape League grad, Tim Stauffer (Chatham, 2002), did it against the Reds on May 11, 2005. Doug Brocail (1992) and Jimmy Jones (1986) also accomplished the feat.
San Diego's interim manager, Pat Murphy, liked what he saw from the rookie.
"I think he showed incredible poise. (I'm) real happy for the young man," Murphy said. "I have known him for a while. To see him come through just the way he did, it's a great moment."
To make room for Rea on the 40-man roster, the Padres designated right-hander Dale Thayer for assignment. Thayer pitched in 38 games for San Diego with a 4.08 ERA.
Rea's hometown of Cascade, Iowa (population 2,159 in the 2010 U.S. Census), was not a regular stop on baseball scouts' maps, so he went undrafted out of high school in 2008. The then 6-foot-4, 180-pound athlete enrolled at the University of Northern Iowa. The baseball program there was killed by budget cuts after his freshman year in 2009, so he transferred to St. Petersburg (Fla.) Junior College, where he did not pitch particularly well, compiling a 7.15 ERA and a 25/20 strikeout-to-walk ratio in 23 innings. Nevertheless, he landed a spot on the Harbor Hawks' roster that summer and his 2.25 ERA in eight innings of work in the Cape League didn't hurt his reputation as he moved on to Indiana State University for 2011.
He improved enough there to win a spot in the 2011 draft, going to the Padres in the 12th round (No. 383 overall).
Rea struggled a bit in the low minors, particularly in the Class A California League, where he was hit hard due to command issues. But he took a huge step forward in 2014 as he cut his walks from 8.16 per nine innings to just 2.4, without loss of strikeouts. His curveball, cutter/slider and splitter-change have improved steadily and his command has been even better this year. Rea now throws four pitches for strikes, has a workhorse body, and greatly improved mechanics.
He started 12 games for San Antonio in the Double-A Texas League this spring, posting a 1.08 ERA in 75 innings while striking out 60 batters, walking just 11 and allowing only 50 hits, earning him an invitation to the 2015 Futures Game and a promotion to Triple-A El Paso in July.
Thanks to Corey Brock of MLB.com and John Sickels of minorleaguebaseball.com for their contributions to this story.