League News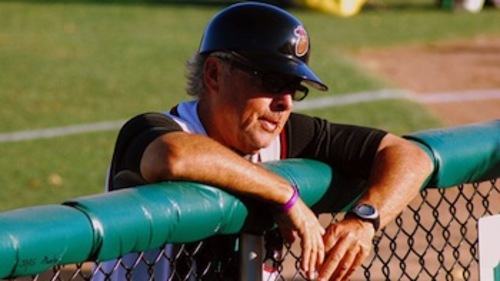 09/15/2015 5:43 PM
Article By: CCBL Public Relations Office
The Wareham Gatemen have announced the hiring of Jerry Weinstein as their field manager as well as the return of Jim Lawler as pitching coach. Gatemen President Tom Gay and General Manager Andrew Lang made the announcement on Tuesday.
This is the first Cape Cod Baseball League managerial position of Weinstein's extensive coaching career. Weinstein joins the Gatemen after spending the previous nine seasons with the Colorado Rockies, last season as the Rockies' developmental supervisor.
"Jerry has a wealth of knowledge and experience at not only the professional level but also in collegiate baseball," Gay said. "What most impresses us is Jerry's commitment to player development, which is the foundation of the Gatemen organization.
Lang added: "I am very excited to welcome Jerry Weinstein and his family to the Gatemen organization. When you are looking for a new coaching staff the most important thing is to find someone who fits into your organization's philosophy. I am very confident that Jerry will continue and even enhance our philosophy of player development. I love to win, but what is most important to me is that when a player returns to school in the fall his coaching staff can really see the improvements he has made over the summer. I have absolutely no doubt that will continue under Jerry's leadership."
Weinstein replaces Cooper Farris, who had been at the helm of the Gatemen since 2001. During his tenure, Wareham won three Cape League titles (2001, 2002, 2012).
Weinstein began coaching in 1966 with UCLA. In 1974, after various coaching jobs in Southern California, Weinstein took the head coaching position at Sacramento City College. During the 23 years Weinstein spent at Sacramento City College, his teams went to 20 consecutive post seasons, 16 league championships, one California Community College Championship (1988), one National Community College Championship (1998) and compiled a record of 831-208. Weinstein is a member of the Sacramento City College Athletic Hall of Fame, the California Community College Hall of Fame and the American Baseball Coaches Association Hall of Fame.
Weinstein left Sacramento City College in 1998 to pursue opportunities within professional baseball, most notable spending the last nine seasons with the Rockies. Weinstein held various positions within the Rockies organization: as manager of the Modesto Nuts, 2007-11 (High A Affiliate); catching coordinator, 2011 (all levels); major league catching and defensive positioning coach; 2012-14 (Colorado Rockies), offensive coordinator, 2014 (all levels); and developmental supervisor, 2015 (all levels).
In addition to his experiences in professional and collegiate baseball, Weinstein served as an assistant coach for the 1987 Pan American Baseball Team, assistant coach for the 1992 and 1996 USA Olympic Baseball Team, and was the head coach of the USA Baseball Team, which won the Gold Medal at the Maccabiah Games. Weinstein also will serve as the head coach of the Israeli National Baseball Team in the World Baseball Qualifiers in 2016.
"I have had a lot of great baseball experiences, not the least of which is the last nine years I have spent working for the Colorado Rockies Baseball Organization," Weinstein said. "I am truly indebted to Dick Monfort, Jeff Bridich and Zach Wilson for that opportunity. I am now looking forward to this new opportunity. I feel that my professional, international and college experiences in baseball have really prepared me for this next challenge as field manager of the Wareham Gatemen. I appreciate the trust that Tom Gay, Andrew Lang and the Gatemen executive board have demonstrated in offering this opportunity to me and my family. Rest assured that our staff will be dedicated to putting the best product on the field while being sensitive to the developmental needs of every player."
Weinstein resides in San Luis Obispo, Calif., and is an alumnus of UCLA and its baseball program.
The Gatemen also announced that Lawler will be returning for his third season as pitching coach for the Gatemen.
"We are very lucky to have Jim come back again next summer. I really can't say how happy I am that he is able to come back," Lang said. "Jim has done an outstanding job with the pitchers for the past two seasons. All you have to do is call up one of our former pitchers and ask them about Jim. Everyone will say first how much they loved pitching for him and second how much they learned from him. Now with the addition of Jerry Weinstein as head coach, I can confidently say that we have the best coaching staff in the league."
The Gatemen now turn their eyes toward filling out the rest of the coaching staff for the 2016 season.