League News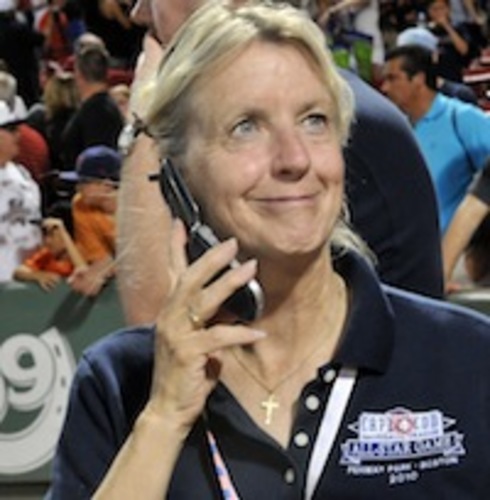 09/22/2015 4:03 AM
Article By: CCBL Public Relations Office
The current Boston Red Sox roster lists no fewer than eight pitchers from the Cape Cod Baseball League – names such as Matt Barnes, Ryan Cook, Rich Hill, Joe Kelly, Wade Miley, Anthony Varvaro, Brandon Workman and Steven Wright.
On Saturday, Sept. 26, the Red Sox will turn to another strong arm from the Cape League when they send Judy Walden Scarafile to the Fenway Park mound to throw out the ceremonial first pitch prior to their game with the Baltimore Orioles.
"It was quite a surprise and certainly a thrill to receive the invitation from (Entertainment Manager) Dan Lyons of the Red Sox," Scarafile said. "The CCBL has a tremendous relationship with the Red Sox and to be invited to do a ceremonial first pitch is an honor.
"I am truly humbled by this. In order to come close to the plate, I am going to start to warm up three days in advance," Scarafile added with a grin, saying she plans to work on her velocity and control prior to taking the mound at Fenway.
A Cape League volunteer for 4½ decades, Scarafile recently announced that she will step down this fall after 24 years as league president. She hinted at continuing her involvement in baseball, but did not reveal any specific future plans.
Under her leadership, the Cape League has achieved near legendary status as the premier summer collegiate baseball league in the world. She's won countless awards, is the only woman to have been elected to the Cape League Hall of Fame and five years ago she was enshrined in Cooperstown as part of the National Baseball Hall of Fame's "Diamond Dreams" exhibit, which honors women's contributions to the game.
Her presidency will officially conclude next month at the league's annual meeting when the Board of Directors elects her successor.
The Boston first-pitch assignment will mark the second appearance this month in a major league ballpark for Scarafile, who with husband Peter was a guest of the New York Yankees at Yankee Stadium on Sept. 4. The Yankees rolled out the red carpet that day, providing field passes for batting practice, meet-and-greets and photos with former Cape League players, dinner in the media cafeteria and press box seats for the game against Tampa Bay.
In 1970, her first season as a Cape League volunteer, then-Judy Walden was barred from the males-only Yankee Stadium press box when she arrived to cover an all-star game between the Cape League and the Atlantic Collegiate League. It was a slight she has never forgotten, but one the Yankees finally saw fit to correct.
"The evening at Yankee Stadium was positively amazing," Scarafile recalled. "Everyone was so gracious and welcoming. I thought we were just going to hang around the field and watch BP, which in itself is a thrill, since you are about 10 feet from the cage. But the real surprise was the number of CCBL alumni
–
players and managers
–
who came over to welcome us and chat with us. Each one of them raved about their Cape League experience, whether it was their host family, their Cape League coaches or their teammates.
"(Yankee manager) Joe Girardi (Cotuit, 1994) told us how his teammates helped him get through the loss of his mother who passed away in the middle of the season. He said he still stays in touch with his roommates from Cotuit."
It was appropriate that the Scarafiles were there for a game against Tampa Bay, whose rookie manager Kevin Cash (Falmouth, 1999) also honed his skills in the Cape League. It was there that the Florida State third baseman was converted to catcher, a position he played throughout an eight-year big league career. Similarly, when she takes the mound at Fenway on Sept. 26, Scarafile will have Orioles skipper Buck Showalter (Hyannis, 1976) watching from the visiting dugout. Like Scarafile, who was inducted in 2003, Showalter is a member of the Cape League Hall of Fame (Class of 2002), as is O's catcher Matt Wieters (Orleans, 2006; Class of 2013).
Both the Boston and Baltimore organizations have strong Cape League connections.
Boston manager John Farrell (Hyannis, 1982) is a CCBL grad, as are his three sons, Jeremy, Shane and Luke, all of whom played at Falmouth. And Torey Lovullo, interim manager while Farrell is undergoing treatment for cancer, also is the dad of a Falmouth player – Holy Cross shortstop and 2015 Red Sox draftee (34th round) Nick Lovullo, who spent the past season with the Commodores.
In addition to eight members of their pitching staff, the Red Sox's current roster includes catcher Ryan Hanigan (Orleans, 2002), infielders Travis Shaw (Bourne, 2010), Josh Rutledge (Y-D, 2008-09) and Deven Marrero (Cotuit, 2010-11) and outfielder Jackie Bradley Jr. (Hyannis, 2009).
Boston' third base coach, Brian Butterfield (Wareham, 1976), and baseball operations executives Ben Crockett (Wareham, 2000-01), Mike Rikard (Bourne manager, 1999-2000) and Brian Bannister (Brewster, 2001) all bring Cape League experience to their jobs. In addition, Cape League Hall of Famer and former Red Sox captain Jason Varitek (Hyannis, 1991, 1993; Class of 2002) serves as a special assistant to the general manager.
Wieters is one of two current Baltimore catchers who played on the Cape. His backup is Caleb Joseph (Cotuit, 2007). Together, they handle a pitching staff that includes four right-handers with Cape League pedigrees – Brad Brach (Cotuit, 2002); Kevin Gausman (Harwich, 2011); Tyler Wilson (Hyannis, 2009-10) and Mike Wright (Hyannis, 2010). Infielders Ryan Flaherty (Hyannis, 2006) and Christian Walker (Harwich, 2011) and outfielder/infielder Steve Pearce (Cotuit, 2004) complete the list of former Cape Leaguers on the Orioles' roster.
One of Showalter's coaches, Scott Coolbaugh, played at Chatham in 1985-86, and TV analyst and former O's shortstop Mike Bordick was a member of the Y-D Red Sox in 1986.