League News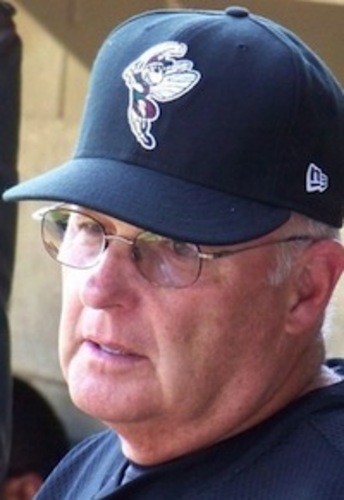 10/30/2015 2:43 PM
Article By: CCBL Public Relations Office
Wake Forest's longtime head baseball coach, George Greer, who is also a legendary figure as both a player and a manager in the Cape Cod Baseball League, was enshrined last weekend in the Demon Deacons' athletic Hall of Fame.
Greer, who coached at the Winston-Salem, N.C., school for 17 seasons, was formally inducted along with five former student-athletes during the Hall of Fame dinner on Oct. 23. All were introduced the next day during halftime of Wake Forest's home football game against NC State.
The 41st annual class also included former Atlantic Coast Conference and National Player of the Year Kelly Dostal in field hockey; a seven-time All-ACC honoree in track and cross country in Annie Bersagel; a Super Bowl champion in defensive tackle Fred Robbins; an ACC Rookie of the Year in women's basketball in Tracy Connor; and an All-Southern Conference basketball forward in Stan Najeway.
Greer, who played at Chatham from 1965-67 and managed at Cotuit from 1979-87, was elected to the Cape League Hall of Fame in 2002, the same year he was named ACC Coach of the Year at Wake Forest. From 1988 to 2004, he won three ACC Championships and fashioned a career record of 608-382-4 for a winning percentage of .614, the highest of any Demon Deacons baseball coach.
The former University of Connecticut All-America led Wake Forest to the ACC Championship in 1998, 1999 and 2001, posted five straight seasons of 40 or more victories from 1998 through 2002 and reached five NCAA Regional Tournaments and one Super Regional. His 608 career victories at Wake Forest represent the ninth-highest total at an ACC school.
Earlier, the Westerly, R.I., native coached at the University of Connecticut-Avery Point and at Davidson. More recently, he has managed and coached at the professional level.
Greer was a double threat in the Cape League. As a player, he helped lead Chatham to the finals for three straight seasons from 1965-67. Twelve years later, he returned to the Cape to become field manager for the Cotuit Kettleers.
In 1965, the 6-foot-3, 185-pound outfielder/first baseman compiled a .349 batting average and led the league in doubles (10) and triples (4). The following summer, he batted .368 and was second in the league in hits (43). Twenty games into his third season at Chatham, Greer was hitting .284 when he was recruited to captain the U.S. team in the Pan American Games in Winnipeg, Manitoba.
He took a leave of absence from Chatham and joined Team USA at the site of the games in western Canada, where he proceeded to lead all tournament batters with six doubles. In the bottom of the ninth inning of the championship game, he came to bat with the bases loaded against Cuban ace Manuel Alarcón and promptly delivered a game- and gold medal-winning single.
It was the first time a U.S. baseball team had defeated Cuba in the gold medal game of an international competition and it remains America's only baseball gold at the Pan American Games.
Wasting no time after his medal-winning heroics, Greer rushed back to the Cape, where he helped Chatham finish its regular season with a league-best 30-9 record and capture the playoff championship in a memorable final series against Falmouth. That '67 Chatham team still is considered one of the best ever in the Cape League. In addition to Greer, its personnel included future CCBL Hall of Famers Thurman Munson, Ed Baird, Joe Jabar, Steve Saradnick, manager Joe "Skip" Lewis, general manager Merrill Doane and team president Bob McNeece.
Baird made the trip to North Carolina to celebrate his former Chatham teammate's WFU Hall of Fame enshrinement.
Greer, who was selected as a First Team All-America for the Huskies in 1967 and 1968, was selected by St. Louis in the 17th round of the '68 June draft and played four seasons in the Cardinals' farm system.
Initially assigned to the St. Petersburg Cardinals, he hit .310 in '68. Returning to St. Pete in 1969, he batted .245/.306/.299, with 17 outfield assists. His best season as a player came in 1970 with the Modesto Reds, where he posted a batting line of .304/.377/.493 (seventh best average in the California League), tied for fourth with 21 homers and led the league with 96 RBIs while splitting his defensive work between first base and the outfield. In 1971, Greer hit .239/.332/.360 for the Arkansas Travelers and .316/.381/.500 in 12 games for the Tulsa Oilers, his only taste of Triple-A action.
After his playing career ended, Greer turned to coaching. He became the head baseball coach at the University of Connecticut-Avery Point in 1972, and, after nine seasons there, he moved on to Davidson College, where he coached from 1981-87. In 1988, he accepted the head coaching job at Wake Forest. While there, he coached more than 30 players who realized their dream of being drafted by a major league team.
Greer, who turned 69 earlier this month, coached briefly with the Modesto Reds in 1973 after UConn-Avery Point's season had ended. It was an enjoyable experience, so he decided to give the pro ranks a shot on a full-time basis and signed on with the New York Mets organization.
He became manager of the Brooklyn Cyclones of the New York-Penn League for the 2006 season, then coached with the Kingsport Mets in 2007, the Savannah Sand Gnats in 2008 and the St. Lucie Mets from 2009-11. He moved up to the Triple-A Buffalo Bisons in 2012 and was with the Las Vegas 51s in 2013 and 2014.
In 2015, Greer left the Mets to return to his roots in the St. Louis organization. He was given the lofty title of "minor league offensive strategist" and spent much of the season working with rookie prospects as hitting coach for the Johnson City (Tenn.) Cardinals.
As Cotuit manager, Greer compiled a 213-143-21 (.598) record with three playoff championships and two Manager of the Year awards (1979 and 1983). Among the Kettleers he instructed during those summers on the Cape were future MLB stars Ron Darling, Greg Vaughn, Will Clark, John Franco and Terry Steinbach.
Greer's election to the Cape League Hall of Fame came in 2002 when he was part of a star-studded class that also one of his former Kettleer players, Darling, as well as Boston Red Sox stars Nomar Garciaparra and Jason Varitek, andMLB manager Buck Showalter. He owns the distinction of being a member of five halls of fame – Wake Forest, the Cape League, the George Whitfield Hall of Fame in North Carolina, the Westerly (R.I.) High School Hall of Fame and the UConn-Avery Point Hall of Fame.
George and his wife Becky reside in Winston-Salem and are parents of three: Andy, Chezley and Chip.