League News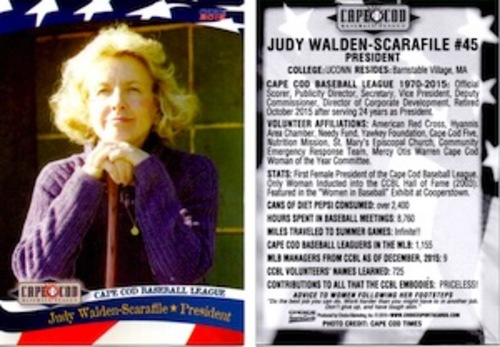 12/15/2015 6:00 PM
Article By: CCBL Public Relations Office
There was not enough time in one evening for all to share their love and gratitude for recently retired Cape Cod Baseball League President Judy Walden Scarafile, but many tried. On Saturday, Dec. 12, at the Cape Codder Resort and Spa in Hyannis, Mass., more than 180 gathered to honor her as part of "Judy's Night."
During a busy holiday season, the ballroom was filled with mementos commemorating Scarafile's 45 years of service to the league, including her 24 years as president. The "Judy's Night" committee provided a room full of photos, baseball flowers, personalized Big League Chew and baseball cards all featuring Scarafile's accomplishments and accolades.
The master of ceremonies, Cape League Hall of Famer
Lou Merloni
(
Bourne, 1991; Cotuit, 1992; Class of 2010)
, set the tone for the evening. The retired major league infielder who's currently a Red Sox game analyst and co-host for WEEI Mid-Day Show, pieced together a lineup of 14 speakers with
John Garner Jr.
, director of public relations and broadcasting for Cape League.
Perhaps the biggest surprise of the evening came when Hyannis Harbor Hawks president Brad Pfeifer, representing the Hyannis Athletic Association, announced that Hyannis' ballpark will be renamed Judy Walden Scarafile Field at McKeon Park. The name change will be instituted as part of the Capitol Improvement Project in Hyannis.
Scarafile was on the receiving end of numerous speeches, proclamations, presentations, well-wishes and specially designed gifts, including a Barnstable Bat Co. custom-made flagpole, the Massachusetts Baseball Coaches Association Ferguson-O'Connell Presidential Award, official citations from the Massachusetts State Senate and House of Representatives and a Congressional Record of the 114th Congress of the U.S. House of Representatives, a Cape Cod Baseball League Certificate, and letters from former CCBL players and the Baseball Hall of Fame.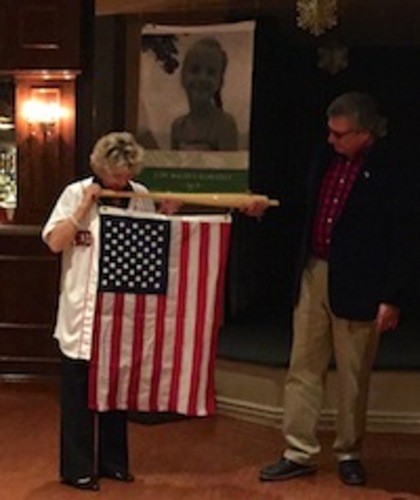 Special guests for the event included Ron Darling (Cotuit, 1980; Cape League Hall of Fame Class of 2002), a former pitcher for the New York Mets/Oakland A's and Montreal Expos, who currently works as a color commentator for TBS' national baseball coverage, Mets commentator for SNY and WIPX, and an MLB Network co-host; Peter Gammons, formerly with The Boston Globe, ESPN, NESN and recipient of the 2004 J.G. Taylor Spink Award; Red Sox PA announcer and humorist Dick Flavin; Tom Lynch, Barnstable Town Manager; Ann Canedy, recently retired Barnstable Town Councilor; Dorthy Savarese, Cape Cod Five Cents Savings CEO; and Patti Lloyd, Senior VP Cape Cod Chamber.
Other speakers included new Cape League president Chuck Sturtevant; Bourne Braves manager Harvey Shapiro; Andy Baylock, former UConn baseball coach; "Big" Ed Baird, former Chatham pitcher and fellow Hall of Fame Class of 2003 inductee; Wendy Northcross, CEO Cape Cod Chamber; Randy Shepard, CEO Eye Health Services; Lynne Poyant, Town of Barnstable; Michael Sweeney, Swing Dance Group and Housing Assistance Corp.; Jim Healey, president of the Yawkey Foundation; Peter Meyer, publisher of the Cape Cod Times; Rep. William Keating, U.S. Congress; and Matt Foley, president of the Massachusetts Baseball Coaches Association.
Special thanks were given to Peter Scarafile, Judy's husband and a Hyannis Athletic Association Board Member; the Baseball Hall of Fame in Cooperstown, N.Y.; Lou Merloni; Sunderland Printing; Big League Chew; The Cape Cod Times; photographer Kevin Mingora; The Cape Codder Resort.
Making it an unforgettable night for everyone on hand were "Judy's Night" committee members Kim Wolfe, secretary for Cape Cod League and the Hyannis Harbor Hawks; Sheri Gay, Wareham Gatemen director; Tom Gay, Wareham Gatemen president; Patti Lloyd, Cape Cod Chamber of Commerce; Nicole Norkevicius, Bourne Braves president; Joe Sherman, Cape Cod League director of special projects & senior web editor; and the aforementioned Garner and Poyant.