League News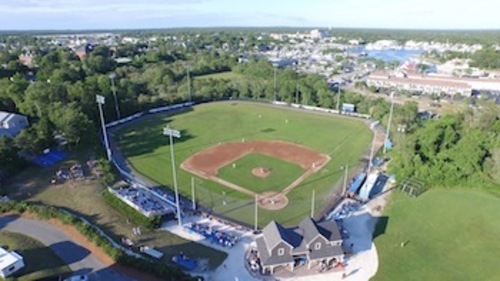 12/16/2015 5:10 PM
Article By: CCBL Public Relations Office
The Hyannis Athletic Association and Town of Barnstable announced plans to have the Harbor Hawks' home field named the Judy Walden Scarafile Field at McKeon Park after the recently retired Cape Cod Baseball League president.
The announcement was made last Saturday at a special event to honor retiring Cape Cod Baseball League President Judy Walden Scarafile by HAA President Brad Pfeifer and Barnstable Town manager Tom Lynch.
"The Hyannis Athletic Association would like to congratulate Judy Scarafile for serving the Cape Cod Baseball League in various capacities for 45 years, including the past 24 as president," Pfeifer said. "She was a driving force in guiding CCBL during its growth in becoming the premier collegiate summer baseball league in America.
"To properly honor Judy, we've officially named our home field the Judy Walden Scarafile Field at McKeon Park."
After 24 years as Cape League president and 45 years with the league overall, Scarafile announced her retirement, effective at the Cape League Board of Directors meeting in October.
Scarafile, who first joined the Cape League in 1970 as an official scorer, served the league in various capacities including publicity assistant, publicity director, vice president, deputy commissioner, director of corporate development and since 1991, as first female president of the nation's best collegiate summer league.
"This is such an incredible honor, it is beyond words," Scarafile said. "I am very humbled by this naming of the field. Peter and I are both so appreciative of the Harbor Hawks and Town of Barnstable for this great honor."
More than 1,200 Cape League players have gone on to perform in the major leagues, including a record 276 in 2014. The CCBL again led all 35 summer leagues with more than 200 players drafted overall, including 14 in the first round during the 2015 Major League Baseball Player Draft.
Scarafile became the first woman inducted into the Cape League Hall of Fame in 2003 and featured in the "Women in Baseball" exhibit at National Baseball Hall of Fame in Cooperstown, N.Y.
In her role as league president, Scarafile oversaw administration, finance, league meetings, public relations and marketing and organized the league's numerous committees.
Plans are under way for a capitol improvement project that will be announced shortly. This will be an opportunity for people to support a revitalized facility that will benefit the entire Barnstable community.