League News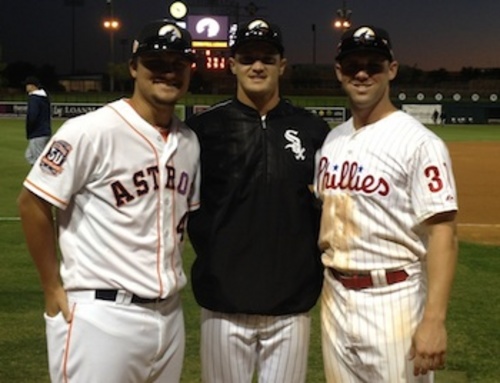 12/18/2015 4:54 PM
Article By:
Each and every summer fans inquire to Cape Cod Baseball League teams or the league about how their favorite CCBL alums are doing in professional baseball.
The easy answer is to check the official
Cape League
site to see if players have made it to the major league level. In the case of former Cape Leaguers who are still in the minors, here are a few recommended websites (in no particular order):
Baseball America,
MiLB.com
or
baseballreference.com
.
Out of curiosity, I investigated how many former Cape Leaguers were among the rosters of the six teams that comprise the prestigious, invitation-only Arizona Fall League. Why the Arizona Fall League? It's where Major League Baseball teams typically place their best minor league prospects, who refine their skills and perform in front of major league scouts, scouting directors and team executives. One could argue that each and every game is a virtual Minor League All-Star game.
The AFL has 35 players on each team and feature the top prospects MLB has to offer, and games are played at spring training sites in Arizona. The AFL, which has been in operation since 1992, was developed by famed baseball executive and Rhode Island native, Roland Hemond.
Among former Cape Leaguers who played in the Arizona Fall League and went on to Major League Baseball include an impressive group of Arizona Fall League MVPs. Those familiar names include Sam Fuld (Hyannis, 2003), Dustin Ackley (Harwich, 2008), Kris Bryant (Chatham, 2011), and the 2015 MVP and former Chatham Angler, Adam Engel (Chatham, 2012).
More than 1,200 Cape Leaguers have gone on to perform in the majors, including a record 276 in 2014. As we reviewed the rosters of the 2015 AFL teams, a large number of CCBL alumni were included. We apologize if we missed a player.
Bourne: L.J. Mazzilli (2012, 2013), Jordan Patterson (2012)
Brewster: Tom Windle (2012), Austin Kubitza (2012), Luke Weaver (2012), Sam Moll (2012), Jeff McNeill (2012), Tyler Smith (2012)
Chatham: Chad Pinder (2012), Nick Burdi (2012), Andrew Knapp (2012), J.D. Davis (2013), Aaron Brown (2012; Brewster, 2013), Adam Engel (2012)
Cotuit: Adam Ravanelle (2013), Mike Yastrzemski (2011, 2012), Dan Slania (2012), Cael Brockmeyer (2012)
Falmouth: Spencer Kieboom (2011), Casey Gillaspie (2013), Jake Reed (2013), John Simms (2012)
Harwich: Mark Zagunis (2013), Phil Ervin (2012), Pierce Johnson (2010), Chandler Shepherd (2013), JaCoby Jones (2012)
Hyannis: David Garner (2012), Sean Manaea (2012), Mitch Garver (2012), Kyle Freeland (2013), Brian Anderson (2013), Austin Slater (2013), D.J. Peterson (2012), Drew Stankiewicz (2012), Brandon Trinkwon (2012)
Orleans: J.T. Riddle (2013), Dominic Ficociello (2012)
Wareham: Daniel Palka (2010, 2011)
Y-D: Sam Travis (2011), Alex Blandino (2012, 2013), Justin Shafer (2013)