League News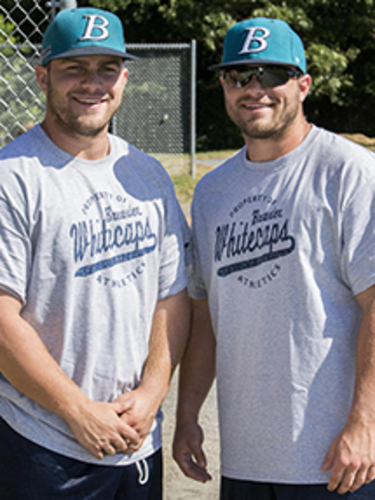 07/02/2016 9:46 AM
Article By:
Although they are more than 1,700 miles from home, Beau and Bryce Jordan of the Brewster Whitecaps have fit in quickly in the Cape Cod Baseball League this summer.
Both players have gotten off to hot starts, as Bryce is batting .357 (5-for-14) through seven games. Beau is off to a 5-for-18 start through six games, including a walk-off single on Friday, June 24, against Harwich. The duo has combined for seven RBIs and eight runs scored so far.
Natives of Lake Charles, Louisiana, the Jordan brothers, who are identical twins, have grown up side-by-side on the baseball field. "Baseball has definitely grown our relationship," said Bryce. "We've played on the same team ever since we were little and always been around each other. Sometimes it gets tiring and starts some fights, but at the end of the day I'm thankful and he's helped me along the way. It's a great thing to have."
The twins, who arrived in Brewster on Wednesday, June 22, made the long drive from Louisiana following their elimination from the NCAA Super Regionals with Louisiana State University. "[The drive] was about 25 hours. We stopped in Virginia, then stopped in Boston and finished the rest," said Beau. The duo was happy to be on the Cape, but they are still adjusting.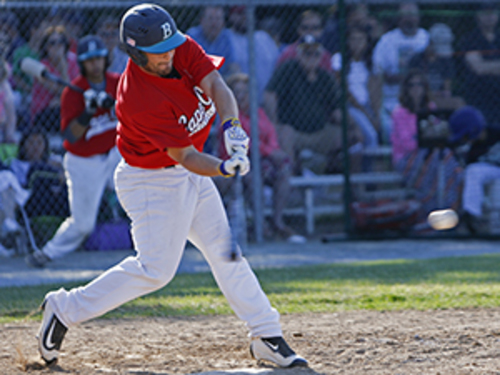 "It's different up here. The weather is like it was last summer in Wisconsin," Beau said. "The outdoor showers are definitely the most different thing I've ever done," he also said how he was adjusting to life on Cape Cod.
Bryce is also excited to be up here, saying: "Coming here, you knew it was going to be beautiful weather and good competition. That's basically what you're looking for coming up here and we're just ready to get back out and start playing baseball again."
Similar to every stop they have made on their journey so far, coaches and teammates are struggling to tell them apart during the first week of the season. "I don't even think they call us by our names," said Beau. "They just say 'Jordan' and we both kind of answer. Even if they just say 'Bryce' I'll turn my head and turn around and look. I've gotten so used to it. The first time they see us they're like 'I'll never be able to tell y'all apart.'"
The feeling is nothing new to the LSU sophomores, as Beau elaborated: "You'd be shocked that people ask us [if we're twins] because we look identical to each other," he said with a laugh. "We joke sometimes and say that we're not even related."
The two look to one another on the field, as Beau said, "We feed off each other, it's pretty cool. People are in awe of us playing together and us being twins. People are like 'Are y'all twins?'"
At the end of the day they know that motivating yourself to play better is your own responsibility. "I go out there and play the best I can," said Bryce. "It doesn't matter if I play better than [Beau] did or not, just as long as I play well."
Playing in the Southeastern Conference, the two have played against a handful of their Cape League teammates. One of those teammates—Aaron Soto, of Tennessee—was the victim of Bryce's powerful bat during the regular season. In a conference matchup on May 15, Bryce launched a home run off of Soto in a 10-7 LSU win. "I knew he was on my summer league team after the fact that I hit the home run off of him," said Bryce. "The first day I got here he goes, 'You're the one that hit that home run off of me.' He didn't really care, he just laughed about it. He's a great guy."
The experience of playing with guys that you normally battle against during the college season is a different one, said Beau. "I think it's pretty cool to get to play with guys from other schools that you play against during the college season. When you get to the regular season you're like 'I know that guy,' so it's cool to go out and make new friends and make new teammates."
When asked about what he most looks forward to on the Cape this summer, Beau had this to say: "The greatest thing is just meeting new people and becoming friends with other guys that were your rivals. Getting to know them is great, because when you're on the field [at college] and you don't talk to them, you have this mindset about what their personality is and then when you actually meet them it's totally different."
Bryce resonated a similar sentiment, saying, "We had a friend from back home that plays for Mississippi State and he kind of told us about his teammates that would be our teammates this summer, so we knew what we were going to get coming in. It's cool playing with guys from other teams. That's what I enjoy most about summer ball—just getting to meet new people."
The brothers will get to meet plenty of new people this summer, and create lasting friendships with both teammates and host family members. For the twins who have played together every step of the way so far, the Cape League is another big step in their journey.