League News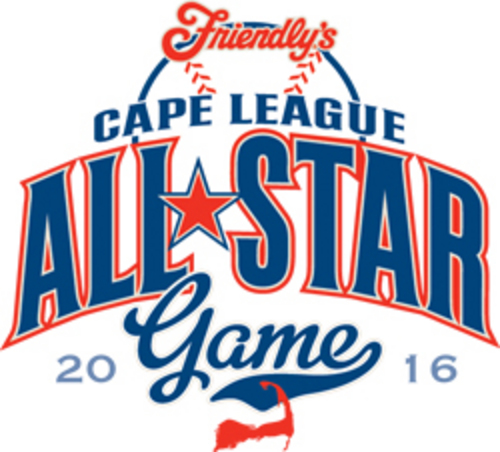 07/16/2016 9:31 AM
Article By:
YARMOUTH, Mass. – The rosters for the 2016 Friendly's Cape Cod Baseball League All-Star Game and Home Run Hitting Contest were announced on Saturday morning at the Dennis-Yarmouth Regional High School following a meeting of the league's 10 coaches.
The annual all-star matchup between the East Division and West Division is slated for Saturday, July 23, at Veterans Field in Chatham. First pitch is scheduled for 6:05 pm.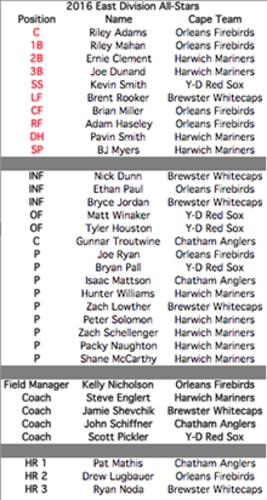 The Harwich Mariners and Orleans Firebirds each have four players in the starting lineup for the East Division in the contest, with the Yarmouth-Dennis Red Sox and Brewster Whitecaps players claiming the remaining two starting spots.
Orleans's Riley Adams gets the start behind the plate and will be joined by Firebird teammates Riley Mahan, second base; Brian Miller, center field and Adam Haseley, right field. For Harwich, Ernie Clement will start in the infield at second base, while teammate Joe Dunand gets the nod at third base. The Mariners' Pavin Smith earned designated hitter duties for teammate BJ Myers, who was tabbed as the starting pitcher for the game.
Rounding out the lineup for the East Division are Kevin Smith, from Y-D, and Brent Rooker, from Brewster. Smith will get the start at shortstop, while Rooker will start in left field.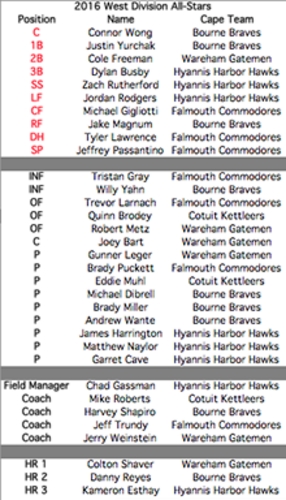 For the West, Hyannis, Bourne and Falmouth each have three players starting the game, while the Wareham Gatemen have one member in the starting lineup.
The Braves' Connor Wong will start at catcher, while teammates Justin Yurchak and Jake Magnum will start at first base and left field, respectively. The left side of the West Division infield will be comprised of Harbor Hawks, as Dylan Busby will start at third base and Zach Rutherford will start at shortstop. Hyannis's Jordan Rodgers gets the start in left field, and is joined in the center field by Michael Gigliotti of Falmouth. The Commodores' Tyler Lawrence was also tabbed as the designated hitter for teammate Jeffrey Passantino, who will be the West Division starting pitcher.
In the Home Run Hitting Contest for the East Division are Pat Mathis, of Chatham; Drew Lugbauer, of Orleans and Ryan Noda, of Brewster. For the West Divison, Colton Shaver (Wareham), Danny Reyes (Bourne) and Kameron Esthay (Hyannis) will compete in the Home Run Hitting Contest.