League News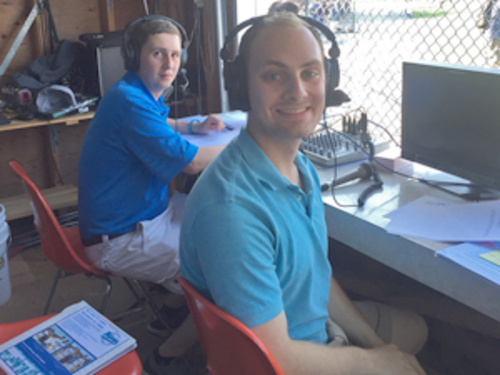 07/22/2016 3:25 PM
Article By:
If you've tuned into an online stream of a Brewster Whitecaps game recently, you've heard a familiar voice that has been a mainstay in the booth at Stony Brook Field and other venues around the Cape Cod Baseball League.

The voice is that of lead broadcaster Brian Clemmenson, a recent graduate of Keene State College in Keene, N.H. Clemmenson has been a part of the Whitecaps' broadcast team for the better part of seven seasons now, beginning all the way back in 2010 when he was in high school.

"I was doing stats in the booth, looking up everything for the two college broadcasters that were in there at the time," said Clemmenson when asked about his entrance into the Brewster family. "Eventually, towards the end of the year, I would alternate hosting the pre-game show every other game."

His roots in Brewster go back well before 2010, as he discussed how he grew up around Whitecaps baseball. "My family has had a place here ever since I was born, and I used to go to Whitecaps camp when I was younger so I've basically been around it my whole life," he said. "We hosted players from 2008 until 2015. My mom would be up here for the summer [to host], but with my brother playing Legion baseball this summer we weren't able to do that."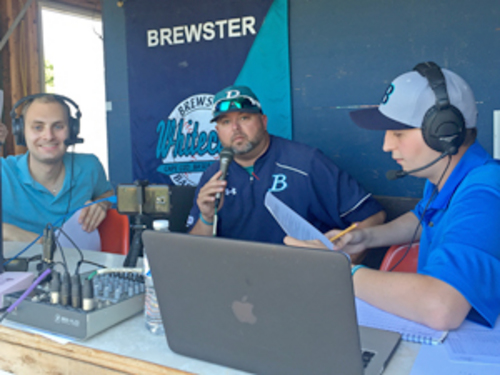 Even when he was younger, he always knew that he wanted to call games—regardless of the sport. "From an early age I always wanted to do this. When I was younger I would announce my own video games, believe it or not," he said.

Beginning in 2011, Clemmenson stepped into an expanded role and called games for the first time. He credits his extensive experience prior to Keene St. in helping land him a key position on the broadcast team for the Owls upon his arrival. "It was really good [to work here before] going into college. Now [Keene's broadcasts] are run by the Sports Information Department but when I got there [the broadcasts] were run by an outside broadcasting company."

"The company I worked for at the time lost the contract, then things were taken over by the athletics department. I went in as a professional from working for the Whitecaps, and this company was no joke. If you were bad, [the boss] would tell you to get out. He fired a few people while I was there," said Clemmenson with a laugh. "I was pretty shy, but I went in and interviewed for the broadcasting job, and he asked me to send a tape. So I sent him a tape from a Whitecaps game and I get a call back from him like, 'Is that really you doing that game?' That definitely helped. If I didn't have that, I wouldn't have gotten the job."

Prior to this year, Clemmenson has seemingly played musical chairs with the seat in the booth next to him, working with new broadcasters each summer. 2016 marks the second year of calling games with Jonathan Gordon, a Broadcast and Digital Journalism student at Syracuse University's S.I. Newhouse School of Public Communications.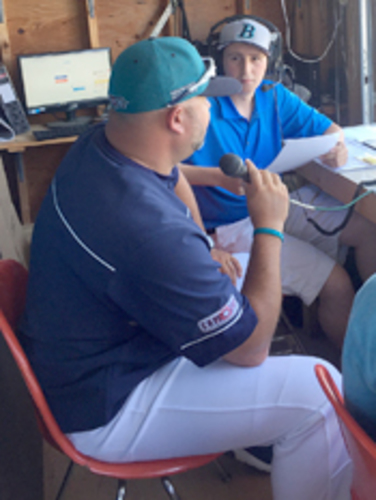 "This is the first time I've had someone for two years [with Jonathan], so to actually have that chemistry coming in was really good. We just picked up right where we left off," said Clemmenson. "Before that, it was always a little frustrating having to work [with new people] every year, but you get used to it after a while. The first couple games of the season are tough."

Gordon reflected a similar sentiment, saying: "There's a huge advantage just in terms of stuff in the booth; he and I both know each other's styles. It's very easy when I know he's going to say something or I'll say something to him and we can feed off of one another. There are times when he'll send me different stats and say 'you might want to look at this,' which helps with preparation. I know how he calls a game and he knows how I call one, and we both understand how things run here. I think it only makes the broadcast that much better, having that experience from him and being back together for a second year."

Gordon also offered praise for Clemmenson, stating that the Keene St. grad helped him make immense strides as a broadcaster. "Coming to the Cape was my first taste of baseball, since Syracuse doesn't have a Division I baseball program," said Gordon. "I learned a lot from Brian in terms of the pace and different ways to say things. Every broadcaster has their own way of saying something, but you can always expand and you can always learn a new way to say the same thing to make it more interesting."

Currently, Clemmenson has a job offer from Smith College in the fall to potentially be the lead broadcaster for Smith's field hockey and women's basketball programs. He also says he has interviewed with multiple American Hockey League (AHL) teams.

When asked if he has any advice for future broadcasters who may want to work for one of the 10 Cape League teams, he offered this: "You need to do your research. That's the number one thing I was taught here when I was in high school. I pride myself on my research before every game."

"I like setting the tone for the broadcast with a good pre-game show; we do a 20-minute one before every game. We give you a rundown of the standings, let you know how teams did last game, get a head coach's report in there with [Jamie Shevchik], go through the season series, go through hitting and pitching numbers and then some other numbers that might jump out at us," he continued. "Definitely do your research and make the most out of this. It's definitely going to fly by. Just come prepared, my big thing is the more effort you put into it the better you're going to sound. If you don't put any effort in you're going to sound bad on the air."

Clemmenson's hard work and dedication to his craft have carried him this far, and will certainly carry him to bigger opportunities in his future.