League News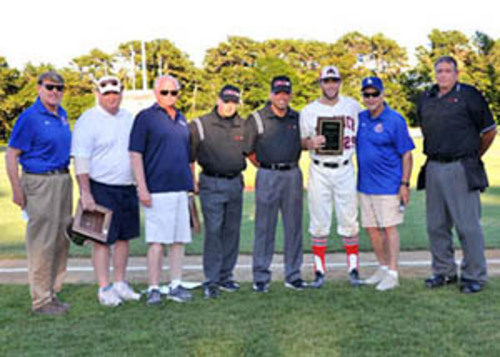 08/04/2016 4:58 PM
Article By:
HARWICH, Mass. – Johnny Adams, of the Harwich Mariners, was honored on Wednesday evening at Whitehouse Field with the 2016 Daniel J. Silva Sportsmanship Award.
Selected annually by the umpiring staff since 1973, this award is presented to the player who shows true class on and off the field and is a well-respected athlete and individual within the Cape Cod Baseball League.
"I felt honored to win the sportsmanship award, [sportsmanship is] always a huge key especially in a game like baseball," said Adams. "The umps may not always get the right calls, but most of the time they do a great job and just to able to win this award is a great feeling."
The rising senior at Boston College appeared in 35 games on the left side of the infield for the Mariners this season. Adams collected a respectable .254 batting average on 31 hits while drawing 11 walks.
The Walpole, Mass. native also scored 12 times on the season while recording eight extra-base hits. One of his best offensive performances came on July 17 against the Yarmouth-Dennis Red Sox, as he went 2-for-4 with two runs, a walk and an RBI.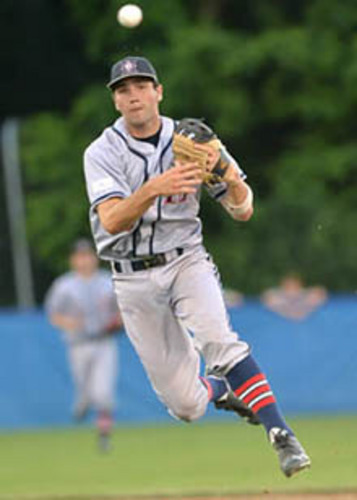 Adams saw almost no drop-off from his college numbers, as through three seasons at BC he has a career batting average of .254 after recording a career-high .284 batting average in 2016. His 17 doubles at Boston College in 2016 led the team, and his 60 total hits ranked him second on the Eagles. Adams also ranked in the top three at BC among qualified batters in runs, RBIs, total bases and slugging percentage.
Adams's hard work and dedication to the integrity of the game was well noted this summer, and were key factors in his selection for this award.
The infielder has cherished his time on the Cape this summer, saying: "This summer has been great. I've got a great host family, I live with a good group of guys and the guys on the field are awesome too so you can't really complain."
Adams and the rest of the Mariners begin their chase for the team's first title since 2011 on Friday, as they enter the playoffs as the top seed in the East Division after posting a 27-15-2 record this year.