League News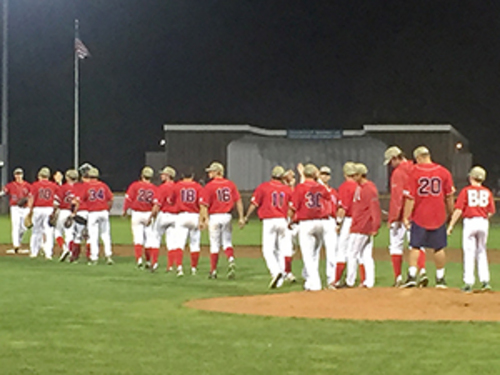 08/06/2016 8:56 PM
Article By:
Day two of the East Division playoffs saw the Harwich Mariners stave off elimination with a 13-1 win, while the Yarmouth - Dennis Red Sox completed their sweep with a 2-1 win to move into the East Division finals.
The Orleans Firebirds got out to an early lead at Eldredge Park, putting up a run in the bottom of the first inning on an RBI double by Garrett Benge. Y-D answered back in the top of the second, when Will Toffey launched a ball into the bullpen in right center field to knot the game at 1-1.
The score would hold level until the top of the eighth, when Joey Thomas recorded an RBI single to make it a 2-1 advantage for the defending-champion Red Sox. That score would hold, as the Y-D bullpen shut down the Firebirds' bats for the final two frames.
Jared Janczac went five innings for Y-D, allowing one run on four hits with four strikeouts. The Red Sox bullpen then went to work, tossing four shutout innings on the way out.
"We got a big swing out of [Will] Toffey there and then a big swing out of Joey Thomas," said Y-D field manager Scott Pickler. "I thought our bullpen did well, and Janczac didn't have his best stuff tonight, but every time he got runners on he got himself out of it. He did a great job of battling without his best stuff tonight."
At Veteran's Field, Harwich's bats came alive to the tune of 13 runs, as eight out of the nine batters in the starting lineup recorded hits. Nick Dalesandro hit a grand slam in the second inning to provide the Mariners with all the offense they would need, and BJ Myers cruised through eight innings, allowing just one run on eight hits with four strikeouts.
The Mariners scored multiple runs in second, seventh and eighth innings, while tacking on a lone run in third inning. Joe Dunand, Johnny Adams, Pavin Smith and Dalesandro all tallied multi-hit games for the Mariners in the victory. Adams's five runs batted in led the way, while Dalesandro finished with four RBIs on his one swing in the second inning.
Harwich and Chatham will square off once more on Sunday, August 6, at 5:30 pm at Whitehouse Field with the winner advancing to face Y-D in the East Division finals.