League News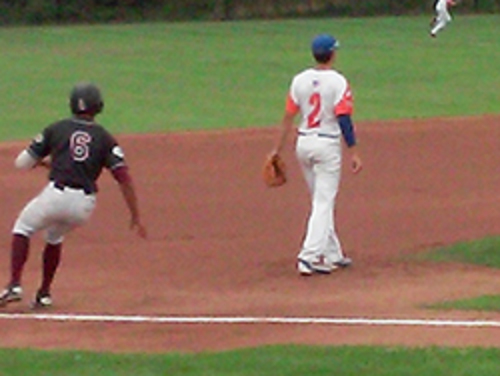 08/06/2016 10:13 PM
Article By:
The West Division saw a pair of teams eliminated from contention on Saturday evening, as the Falmouth Commodores and Bourne Braves knocked out the Hyannis Harbor Hawks and Wareham Gatemen, respectively.
Falmouth defeated the Harbor Hawks 8-2 at Judy Walden Scarafile Field to move on to the West Division finals. The West's No. 4 seed, the Harbor Hawks, were looking for redemption after Friday night's 6-0 loss to No. 1 seed Falmouth.
The Commodores were first on the board when JJ Matijevic hit a sacrifice fly to deep center allowing Michael Gigliotti to tag up and score. The Commodores struck again in the second when Michael Cantu drove in Tyler Lawrence, making it 2-0 Falmouth. Gigliotti scored again in the top of the fifth as Hyannis walked in a run. In the top of the sixth, Falmouth's Canta drove in another run, his second RBI of the night.
Hyannis finally got on the scoreboard with 2 outs in the bottom of the seventh when Peter Zyla hit a triple to the center field fence driving in 2 runs.
The bats were alive again for the Commodores in the 9th as they drove in 4 additional runs to go ahead of the Harbor Hawks 8-2. Gigliotti was the star of this game going 4-5, hitting 4 singles and scoring 2 runs. Pitcher Brady Singer was stellar also for the Commodores pitching 6 scoreless innings, giving up only 3 hits.
The Braves pulled off a come-from-behind thriller for the second night in a row, walking off on Wareham with an 8-7 victory. Bourne scored six times in the ninth inning to capture the second berth in the West Division finals, capped off with a game-winning, two-run single by John Jones with two outs and the bases loaded.
Willy Yahn and David MacKinnon each went 3-for-5 on the day, while Jones, Jake Mangum, Justin Yurchak and Kevin Mohollen each had a pair of hits for Bourne. Andrew Shaps led the victors with three RBIs on the day.
Bourne and Falmouth will now face off on Monday, August 8, at Fuller Field in Falmouth. First pitch is slated for 6 pm.