League News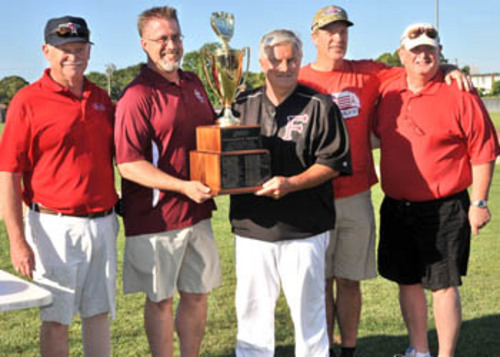 08/07/2016 5:57 PM
Article By:
The Falmouth Commodores have had quite a year. They finished the regular season with an impressive 29-15-1 record after ending last summer in fifth place and missing the postseason. Now they find themselves heading into round two of the Cape Cod Baseball League Playoffs after defeating the Hyannis Harbor Hawks in round one.

On the same evening as being awarded the Western Division Championship Cup, the Commodores were also awarded the President's Cup, awarded annually since 2012 to the team with the most regular-season points.

Falmouth earned a total of 58 points, just ahead of the Harwich Mariners 56 points. The Mariners won the Eastern Division Championship for their division leading 27-15-2 season.

Chuck Sturtevant, President of the Cape Cod Baseball League, was excited to present his friends in Falmouth the President's Cup. Sturtevant is a lifetime member of the Falmouth organization. He started his career with the league in 1987 as a Falmouth board member. Sturtevant served various positions with the Falmouth organization until 2009 and is responsible for hiring the Commodore's manager, Jeff Trundy, 18 years ago. Sturtevant became Cape League president this past October.

"It's an honor for me to be able to present this award to Falmouth in my first year as president of the league," said Sturtevant. "Coach Trundy so richly deserves this award, and I'm so happy that he is getting a special recognition." He continued, "There's not one player, with all my years with Jeff, that hasn't said to me, 'He was the best coach I've ever had'."

That sentiment still rings true, as the players and supporters have coined the phrase "Win it for Trundy". This popular phrase not only adorns T-shirts and posters, but is prevalent on the Commodores social media posts.

Coach Trundy is hesitant to talk about the "Win it for Trundy" mantra. He acknowledges that the success of the team is definitely a joint effort, saying the brunt of the praise needs to go to the whole group.

"This award is really a tribute to the kids and the coaching staff and what they've accomplished," said Trundy. "It's an honor to have Chuck present the award to us. We have a pretty special friendship, so this means a lot."

Eric Zmuda, Falmouth's general manager, agrees with Trundy, but extends his gratitude to include the entire Falmouth franchise. "This is proof evidence of all the hard work everybody in our organization does year round: board members, host families, interns, broadcasters, all our volunteers." He added, "They have created an atmosphere that the players can come in to and be comfortable and concentrate on playing baseball."

The atmosphere created in Falmouth has certainly led the Commodores into what will be known as a very successful 2016 season.