League News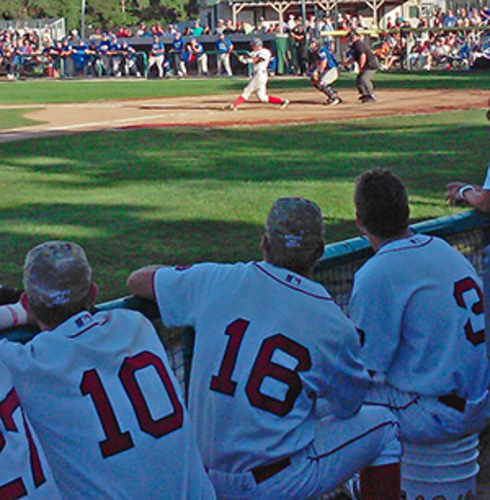 08/08/2016 7:10 PM
Article By:
The No. 2 seeded Yarmouth-Dennis Red Sox defeated the No. 4 seeded Chatham Anglers, 9-8, at Red Wilson Field on Monday evening. This was the first game of the East Division Finals after Y-D swept the Orleans Firebirds in the first round and Chatham beat the Harwich Mariners in two out of three games to claim their spot in the championship.
Chatham came out swinging in the first inning, tallying three hits and two runs. Jeremy Vasquez drove in one run with a bloop single to right field and Gunnar Troutwine scored on an error. Y-D's Bryan Sammons kept Chatham's damage to a minimum, recording a bases loaded strikeout to end the inning.
Dillion Persinger showed his defensive prowess in the top of the third, as he was responsible for all three outs, including a double play. His excellence continued in the bottom of the third, when he hit a home run that cleared the center field fence, driving in two runs. Kevin Smith followed Persinger's home run with a solo shot, giving Y-D the lead over Chatham, 3-2.
The Anglers responded in the top of the fourth inning, scoring one run to tie the game at 3-3. Orlando Garcia hit a hard groundball that drove in Sean Bouchard. Chatham's Mason Koppens scored in the fifth inning, stealing third base and scoring on a throwing error. Y-D's starting pitcher, Sammons, was relieved in the fifth inning by Pat Vanderslice after throwing four innings giving up three hits and one earned run while striking out three. Chatham's Caleb Gilbert was also relieved in the fifth after pitching four innings giving up five hits, three runs and striking out four.
Y-D drove in two runs in the fifth regaining the lead at 5-4. Smith hit a sacrifice fly to deep left field driving in JJ Muno and Will Toffey drove in Persinger with an RBI double to right field. Deon Stafford Jr. entered the game in the bottom of the 6th as a pinch hitter. After getting on base with a walk, Stafford Jr. scored on a passed ball, increasing Y-D's lead to 6-4. Nolan Brown drove in two runs for Y-D in the seventh, hitting a single to right-center field with the bases loaded, making the score 8-4. Persinger crossed the plate for the third time in the eighth inning, scoring on a passed ball, making Y-D's lead 9-4.
Chatham came alive again in the ninth inning, hitting through the lineup and scoring four runs. Jake Palomaki, Stuart Fairchild and Vasquez each drove in one run with RBI singles, and one run scored on an error. The final inning was a nail-biter, but Y-D came away with the victory, despite the Anglers' threats.