League News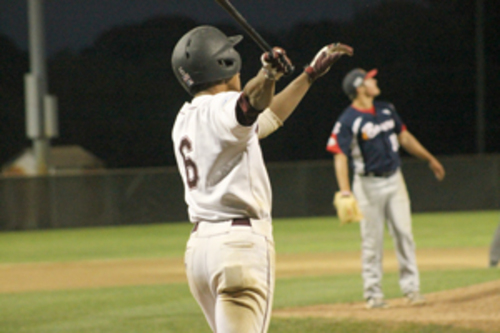 08/09/2016 7:58 AM
Article By:
The Falmouth Commodores and Bourne Braves met at Guv Fuller Field to compete in game one of a best of the west showdown. Both teams were well matched in talent and skill, but it was the Braves that came out on top 7-4 against the hard fought, top seeded Commodores in a typical thrilling fashion.

Falmouth was quick to get on the board with a run scored by Michael Giglioitti (Lipscomb) in the bottom of the first. Gigliotti had 3 hits, 2 RBIs, in 5 at bats and scored 3 runs against the Braves. He ended the night with a striking .600 batting average. Falmouth combined for six pitchers, led by starter Brady Puckett (Lipscomb), but it just wasn't enough to contain the Braves.

Bourne fired up the park in the third inning with their first run scored by Brennan Breaux (LSU). Breaux had 3 hits in 4 at bats and earned himself an impressive .625 average at the plate. John Jones (South Carolina) went on to score a 2 run home run in the fourth making the score 1-3. Both Justin Yurchak (Binghamton) and Connor Wong (Houston) put runs on the board for Bourne in the fifth making the score 1-5. Evan Mendoza (North Carolina State) earned the sixth run of the night for the Braves in the seventh.

The Commodores came alive in the sixth and seventh inning scoring three more runs by Gigliotti and Cadyn Grenier (Oregon State). The race was tight at 4-6 and the energy in the ballpark was high in both dugouts and the bleachers of opposing fans. Despite the Commodores' rally, they just were not able to catch up after Wong scored once again in the ninth on a walk with the bases loaded.

Mendoza, Breaux and Andrew Shaps (Arizona State) both went 3 for 4 on the night while Jake Mangum (Mississippi State) lead the Braves with 2 RBIs. Tristan Gray (Rice) went 2 for 3 with the Commodores and the team combined for 10 hits in 35 at bats.

Bourne and Falmouth will meet again for game 2 in the West Division Championship on Tuesday at 6 p.m. at Doran Park.