League News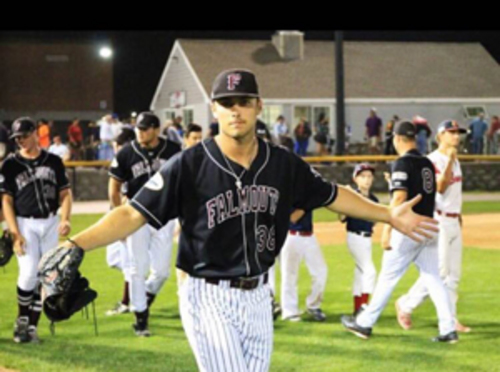 08/09/2016 10:04 PM
Article By:
BOURNE, Mass. – The Bourne Braves entered game two of the Western Division Semifinals with an edge: a game one win under their belt and home field advantage on their side. But, the No. 1 Falmouth Commodores came away with the 5-4 win in tonight's matchup, forcing a game-three tomorrow night at Guv Fuller Field in Falmouth.

Falmouth got on the board early, giving the Commodores a 1-0 lead off a JJ Matijevic (Arizona) single, scoring Michael Gigliotti (Lipscomb) in the top of the first. But, they were unable to hold the Braves for long. Connor Wong (Houston) singled and was driven-in off a line drive down the left field line by John Jones (South Carolina) to tie the game at one in the bottom of the second. With a runner on third, Grant Williams (Kennesaw State) recorded an RBI single up the middle, giving the Braves a 2-1 lead.

Falmouth answered Bourne's call, tying up the ball game from a Matijevic single to score Gigliotti, again, giving the scorebooks a dose of déjà vu. The score remained 2-2 until the fourth, when Falmouth took back the lead, securing another run. Jake Bird (UCLA) held Bourne with two scoreless frames, earning a final line of 5 IP, 6 H, 2 R, BB, 1 K.

Back-to-back baseball has been the Braves' style since entering the playoffs. With the bats swinging, Bourne secured two more runs to regain the lead, 4-3. Evan Mendoza (NC State) scored Brennan Breaux (LSU) to tie it up, followed by Justin Yurchak (Binghamton) sending the speedy Mendoza home, off a blooper to third.

Just when it seemed as if the Braves had made another comeback, the Commodores continued to fight at the plate. Cadyn Grenier (Oregon) hit the ball hard above the head of Bourne's third baseman, sending the runner on the bag from first to third. A wild throw from the Braves' left fielder passed the Braves' catcher hitting the wall, allowing the runner on third to score and Grenier to reach third. Gigliotti proceeded to hit a double through the gap, giving Falmouth the go-ahead in the eighth.

The Braves set down the Commodores 1-2-3 in the ninth, and were given a chance to walk-off and become the Western Division Playoff Champions. But, Falmouth returned the inning, 1-2-3, as the Commodores' closer Corbin Martin (Texas A&M) struck out two, with a groundout, for the final three outs of game two.