League News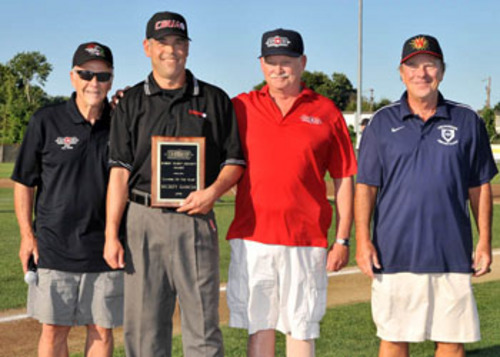 08/12/2016 11:22 AM
Article By: John Garner Jr.
FALMOUTH, Mass. -- After officiating for over a decade at various levels of baseball, veteran umpire Mickey Garcia has received the 2016 Curly Clement Award, presented for officiating excellence and contributions over the years to baseball umpiring in the Cape Cod Baseball League.

The 12th annual Clement Award was presented to Garcia during last Monday's playoff game between Bourne and Falmouth by Sol Yas, CCBL deputy commissioner and umpire-in-chief and Nick Zibelli, president of the CBUAO.

In addition to 11 years working as an umpire overall, Garcia has spent the past six years working Cape League and other collegiate games.
This summer, Garcia umpired in several Cape League games, including Game 1 of the Cape League championship series Thursday at Falmouth, won by the Commodores, 5-4 over the Yarmouth-Dennis Red Sox.

"This is a tremendous honor," said Garcia. "I enjoy being around the game and being an umpire keeps you right into the action."

Garcia resides in Mashpee with wife Jennifer and daughters Alexa and Hailey. He works at Convention Data Services in Bourne as senior registration coordinator.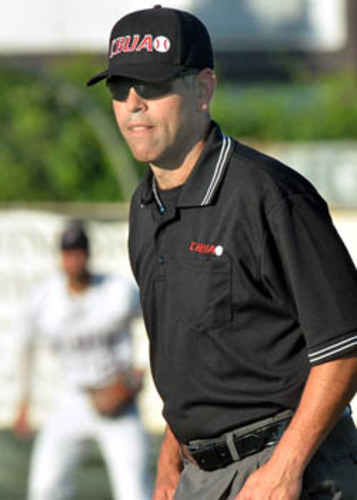 He's still playing baseball in 18-plus league on the Cape, as pitcher/infielder. Mickey also coaches youth sports in Mashpee, including the Girls Travel Soccer Team.

A New York City (Washington Heights) native who graduated from Norman Thomas H.S. in Manhattan, Garcia attended Lehman College, where he captained varsity baseball team and received a CUNY Scholar-Athlete Award in 1989.

"Mickey has done an outstanding job working on the Cape as an umpire," said Yas. "He takes command on the field when working a game and joins a select group of umpires as recipients of the Clement Umpire of the Year."

Robert "Curly" Clement worked as a Cape league umpire over four decades and was inducted into the CCBL Hall of Fame in 2002. He umpired 16 NCAA Regionals, several ECAC Division I Baseball Championships and two College World Series.

Affectionately known as the "Candy Man," for his propensity of passing out candy to players, coaches and field managers during on-field disputes, Clement's final Cape League appearance was working home plate at the 2000 CCBL All-Star Game. He passed away in 2006 after a long illness.

Previous Clement Award winners include Rick Delvecchio (2015), Bill Fisher (2014), Pat Burns (2013), Joe Caraco (2012), Mark Ottavianelli (2011), Michael Sadowski (2010), John Leeds (2009), Harry Greer (2008), Tim Carey (2007), Peter Hall (2006), Jim McNally (2005) and Walter Bentson (2004).

John W. Garner Jr., CCBL Director of Public Relations & Broadcasting ([email protected])