League News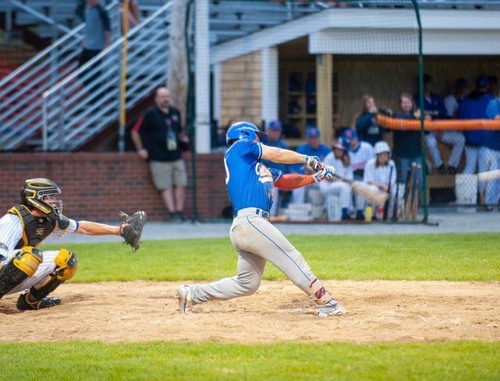 06/12/2019 4:42 AM
Article By: Joseph Barrett


Kaden Polcovich (Northwest Florida St.)
Chatham, INF

After a championship appearance just a short season ago, the Chatham Anglers found themselves in the midst of a 4-1 deficit against Hyannis on Monday night. Despite some opening night rust and an apparent struggle to gain any momentum, the team in blue wound up leaving the field victorious. Perhaps the best all around asset for the Anglers was infielder Kaden Polcovich, who made his highly anticipated Cape League debut on the same evening. The Oklahoma native racked up three hits for Chatham and added a crucial run in the effort as well. In the group's second game of the season, Polcovich collected yet another hit to go along with 3 RBIs in a victory over Cotuit. After Monday's game, Chatham manager Tom Holliday stated "I'm still trying to figure out who they are," when asked about his new roster. After last night's performance, Holliday will surely keep Polcovich's name present moving forward.

Bryce Elder (Texas Austin)
Wareham, P

It was a low scoring affair in Wareham between the Gatemen and the Whitecaps on Monday night, large in part to pitcher Bryce Elder. The defending champions picked up right where they left off and began the summer with a win for the Wareham faithful. In four innings, Elder impressed with six strikeouts and a mere two hits allowed. It's surely a rarity when the winning team of a baseball game tallies just four hits, but Elder made sure to put the league on notice and delivered from start to finish. The next time he walks out to the mound, a sense of comfort should spread through the Wareham dugout.

Blake Dunn (Western Michigan U)
Falmouth, OF

The Commodores reached the double digit mark in hits as Falmouth took care of business against Harich to begin the season. Among the offensive burst was outfielder Blake Dunn, who collected two hits and two RBIs in his four at bats. In his second stint as a Western Michigan Bronco this past collegiate season, Dunn was remarkable with a .374 average and 71 hits to his name. The success surely translated to the Cape in his debut game, and the people of Falmouth are proud to call him a Commodore.

Adam Seminaris (Long Beach State)
Orleans, P

Perhaps the most impressive performance on the mound in the league's opening slate of games was Orleans pitcher Adam Seminaris. The left hander shined in his five innings of action and left the Bourne lineup searching for answers in the victory. Seminaris allowed just two hits and tacked on two strikeouts after getting the nod from manager Kelly Nicholson. If his performance was any indication of what he can bring to the diamond, he'll attract lots of eyes moving forward in 2019.

Jackson Olson (Hartford)
Hyannis, SS

Hyannis received a solid boost to their roster during the offseason when Jackson Olson was officially named a Harbor Hawk in 2019. Despite his team coming up short to Chatham in ten innings, Olson made his presence felt in the opportunities he was given. In four at bats, Olson had himself a three hit evening and was responsible for two of his team's four runs. The .750 average looks quite sharp on the statistics page and Olson will aim to keep his hot stretch existent moving forward.