League News
06/15/2019 7:34 PM
Article By: Joseph Barrett
As a child, Bourne's Robby Cerulle spent his summers trotting onto Doran Park with a dream. The young ball player had aspirations of becoming a Bourne Brave and years later, Cerulle turned his hopes into reality.

Cerulle is in the midst of his collegiate career at the University of Pennsylvania. Last season for the Quakers, the relief pitcher made twelve appearances at the mound. Cerulle made the most of his opportunities and recorded eleven strikeouts to go along with one save.

Before appearing on ESPN and making headlines as a pitcher, Cerulle had partaken in quite the baseball journey. According to his father, Robert, he started playing the game of baseball when he was just five years old.

Little League is of course a fond time for young baseball players, and it's no different for Cerulle. In his concluding season in Little League, he played a key part in helping his team reach the Massachusetts state finals. The next phase for Cerulle was summer ball, where he would suit up for the New England Ruffnecks.

During his stint with the Ruffnecks, little did Cerulle know he was actually teammates with some familiar faces from the Cape Cod Baseball League.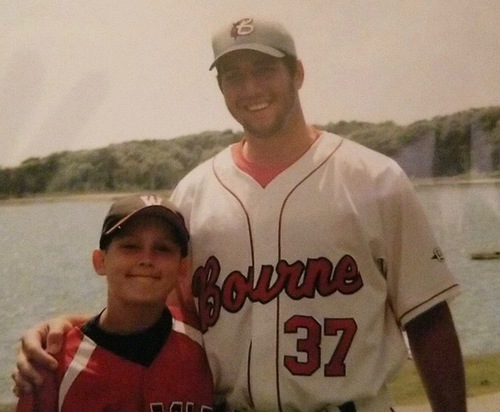 Orleans pitcher Jared Shuster and Harwich outfielder Chris Lanzilli also shared the diamond with Cerulle as teenagers. When Cerulle was just fourteen years old, the three future Cape Leaguers went on to win the championship together that season.

Cerulle then attended Phillips Andover Academy, where he'd showcase his skills even more. He was named captain and went on to win yet another championship, this time in high school. It was during these years where his play would attract eyes from all over the country, and he would be recruited to play at the University of Pennsylvania.

"He's had baseball in his blood since he was five years old, he's played thousands of baseball games… It's been a family affair and we've really enjoyed watching him." said Robert.

Through all of the innings, practices, and pitches, it was a summer camp in Cape Cod that would change Cerulle's life.

The individual team camps in Cape Cod are as special as it gets, especially for a child wanting to explore the game of baseball. Each team hosts day sessions where Cape League players themselves assist the children in various drills, and are sure to pass down some keen baseball knowledge along the way.

For five years, Cerulle attended the Bourne Braves' summer camp sessions. It was on that field where his fascination with the Bourne Braves became apparent. From the beauty of the park to the time spent with everyone involved in the camps, Cerulle knew what he wanted to do.

"One it was summer camp. They did a great job. Having the players around, there were a couple of players he really enjoyed spending time with," said Robert.


During his latest season at UPenn, Cerulle took the initiative and sent Bourne manager Harvey Shapiro a text message. He explained how he had always been a fan of Bourne, and would love to play for them.

After another solid collegiate season, highlighted by his crucial save against Duke, Coach Shapiro offered him a spot on the team.

"I was over the moon. To get that spot, I was ecstatic… It's a little boys dream to join the team who's camps you go to… It's really been a great experience." said Robbie.

The next few months are poised to be an experience Cerulle will never forget. Taking the field on gamedays signifies something special for the kid who had always dreamt of it becoming reality.