League News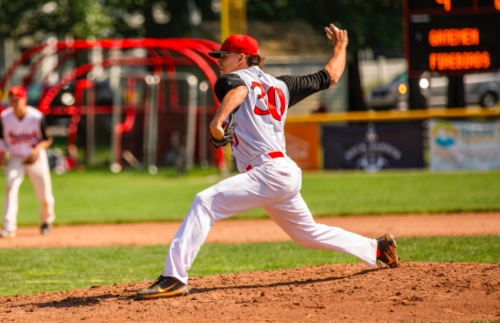 06/27/2019 4:46 AM
Article By: Joseph Barrett


A right-handed pitcher with a versatile attack, a fair description of Orleans reliever Chase Wallace. The Tennessee native has already portrayed his talents against the country's top collegiate teams, and now looks to continue his stellar start in Cape Cod.

The righty has repped the bright yet classic orange of his Tennessee Volunteers uniform the past two seasons. While in Knoxville, Wallace made his home state proud, delivering with consistency against the best the NCAA has to offer.

As a freshman, he made 16 appearances at the mound. Wallace made the most out of his all important opportunities, and racked up three saves to go along with 16 strikeouts.

A short collegiate season later, he kept the pressure coming and allowed just five hits in his nine appearances. Wallace often left his adversaries searching for answers, exemplified by his opposition's 1.86 average against him in back to back seasons.

As the calendar changes, so does Wallace's baseball quest. He now trotts onto Eldredge Park in Cape Cod, and is proud to call himself an Orleans Firebird. Wallace has fit in perfectly during his East Coast stint, as his team is among the league's best as we near week four.

The Cape Cod Baseball League is the country's preeminent summer baseball league, full of the NCAA's top talent. Since his early baseball days, Wallace has relished the opportunity to compete against the best, and it's no different this summer.

"It's honestly just playing against people from all over… Some of the best players from those conferences, it's not like playing the same people in school ball," said Wallace.

For Wallace, it's an honor to be able to share the diamond with players who possess the same aspirations as his own. His fellow pitchers in Cape Cod who he once called his collegiate opponents, have turned into some of his best companions.

"They're fun to play with, it's a great experience… Just getting to know guys, talking with the pitchers and just having conversations with them, learning something new." said Wallace.

In the Volunteer State, Wallace's team has their own athletic facility on campus. Fast-forward a few months, and it's a tad different in Cape Cod. Players are expected to utilize their time wisely, and work efficiently between practices.
"The gym that we go to, Bodystrong, they've been awesome. Great prices for us throughout the summer so we can go there in the mornings and get our work in," said Wallace. "The facilities at the field are a little different, but you have to do what you have to do. Whatever you have, you just use it to the best of your ability."

The players who take their talents to Cape Cod for three months run on a dense schedule. From almost everyday travel to their fair share of doubleheaders to partake in, the summer is essentially nonstop.

However, it's still summer on Cape Cod, an experience like no other. Wallace, along with both his Orleans and Tennessee teammates, haven't forgotten to savor the experience.

"Lately it's been raining, so we'll just chill out, get some good rest in. But if it's sunny, we go to the beach… we'll meet up and just hangout a little bit." said Wallace.

Wallace has yet to allow a run in his short tenure in Orleans thus far. His performance on the field along with the meaningful people around him have made this summer a special one, and there's still two more months to come.