League News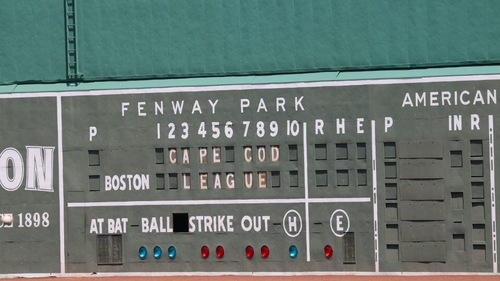 06/28/2019 4:52 AM
Article By: Ben Fischer
America's premier summer college league returned to America's most beloved ballpark for the 13th straight year on Thursday, with all 10 Cape League teams putting on workouts for scouts at Fenway Park.

In front of representatives from Major League teams, players ran the 60-yard dash, took infield, and finally took batting practice. The day began at 9:00 a.m. with the Cotuit Kettleers and Hyannis Harbor Hawks showing their stuff for the scouts. The final act of the day was a scrimmage between the Orleans Firebirds and the New England-based scout team.

The Cape League players got a potential glimpse into the future, as current Red Sox Nathan Eovaldi and Mitch Moreland played catch and took part in other exercises on the field as they work their way back from injury. Moreland is himself a former Cape Leaguer, having played for the Bourne Braves in 2006 and 2007.

The players experienced the unique dimensions of Fenway Park, trying to hit balls over the vaunted Green Monster and the 420-foot triangle in center field. The Cotuit Kettleers' outfielders got an extra test with the Monster, as they got to attempt to play balls hit off the left-field wall during outfield practice.

While rain has derailed many scheduled games early in the season, the weather held beautifully for the Fenway showcase, allowing the players to make up for lost time and get good face-time with Major League scouts who can help them accomplish their professional baseball dreams in the coming years.