League News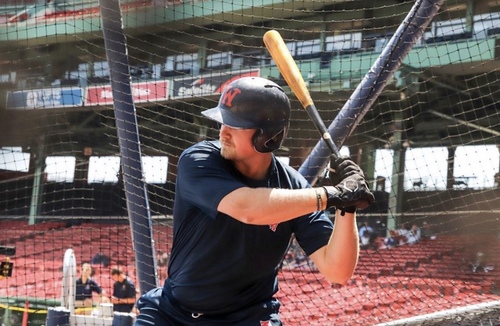 07/01/2019 5:05 AM
Article By: Joseph Barrett


Wareham catcher Dallas Beaver may be covered in pads behind the plate, but his play has been on full display during his first month in Cape Cod.

Beaver recently concluded his junior season at Central Florida, and found himself in the midst of his breakout season. In 2019, the lefty recorded a .316 average, while racking up 66 hits and 12 home runs in the process.

For most, the narrative of summer is one of relaxation and recovery. Baseball players tend to have different plans however, and the collegiate standout took his talents to Cape Cod.

A player's three months on the Cape have proved to be utterly special, especially when one joins the defending champions from the prior season. The Wareham Gatemen are proud to have Beaver on the roster, and aim to replicate their success from a short season ago.

The Wareham faithful expected a lot from the veteran catcher, and their assumptions have been fulfilled. The league is only a lone month into the summer, but Beaver holds a strong .300 average, and his team is atop the West Division.

The object of the game may be the same, but summer baseball differentiates itself from collegiate baseball. For Beaver, the advanced competition is something he relishes, no matter which ballpark it's coming from.

"You come up here and play with guys that are equally as good if not better than anyone you play all year long… The play is obviously phenomenal," said Beaver.

Wareham manager Jerry Weinstein has witnessed extraordinary talent during his coaching career in Cape Cod, and has handed lots of his players to the MLB as a result. Weinstein expects long term commitment from June to August, something Beaver has been delighted to be a part of.

"We're out there super early, working on catching and doing all kinds of different things. The detail here is pretty incredible. Coach Jerry is phenomenal, he's a legend for a reason." said Beaver.

Committed baseball players tend to be involved in the game since their early playing days, resulting in their involvement in numerous leagues. However, Beaver feels the Cape League has simply been an experience like no other.

"We're out here playing the game that we all love… to play in a league like this has been kind of a dream come true." said Beaver.

From the advanced competition to the iconic nature of the league, Beaver feels more than content with how his summer has unfolded. The fans at Spillane Field have had lots to cheer about during the first month of play, and the players in front of them are poised to continue their strong start in Cape Cod.