League News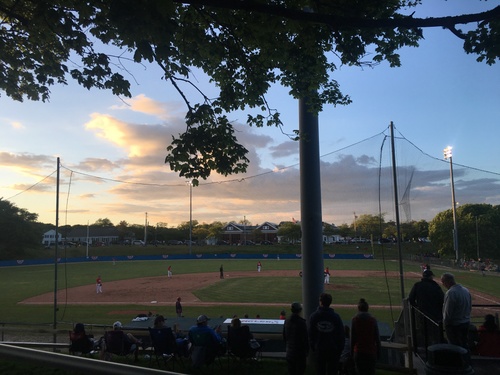 07/10/2019 9:30 PM
Article By: Michael Lane


Five years ago, when Karen and Stephen Moore moved back to their original hometown of Chatham, they purchased a house right next to Veterans Field, home of the Chatham Anglers.In the backyard of their ordinary looking home, is possibly the most unique seating area around the Cape League, their own personal bleacher.

When Karen and Stephen purchased the house there were three chairs already in place, tall enough to overlook their fence and see the field. The idea of being able to watch Anglers games from their backyard was exciting for Karen and Stephen, but there was a small problem. Karen's family, who all live in Chatham, is very large and having people over to watch the games would be difficult with only three seats.So, they decided to build it up into a bleacher that can fit up to 12 people and their one dog, Pippen
The five summers since they built the bleacher have already created numerous lasting memories for the couple, to add onto a lifetime of memories involving the Chatham community.Growing up Karen would attend Anglers games every summer. Her father also ran a business that some Anglers players worked at, most notably baseball legend Thurman Munson in the summer of 1967. She has fond memories of spending summer nights with her family watching the team play and spending the 4th of July watching the annual fireworks show on the field.Now they are fortunate enough to be able to share these experiences with their nieces and nephews.
.

On a typical summer night Karen, Stephen and numerous relatives will head out onto their home plate shaped patio and prepare for the game by grilling some fresh seafood. They'll then head up onto their bleacher and watch the game with their family. Numerous people walking by will stop and ask about their bleacher, often calling it the Wrigley Field of Chatham, or say hello to their dog Pippen.

Karen and Stephen are an example of what makes the Cape Cod Baseball League special to many people. In addition to the elite talent of the players that is unmatched by any other league, according to Stephen, there is something magical about summers on Cape Cod and all the people you interact with at the games.

The Cape Cod Baseball League brings numerous communities together and allows people the opportunity to create lasting memories. For 22 nights a summer, Karen and Stephen are extremely grateful for everything that has led them to this point; that they can create new memories every day with their family by their side, while watching the Chatham Anglers play baseball from their backyard.