League News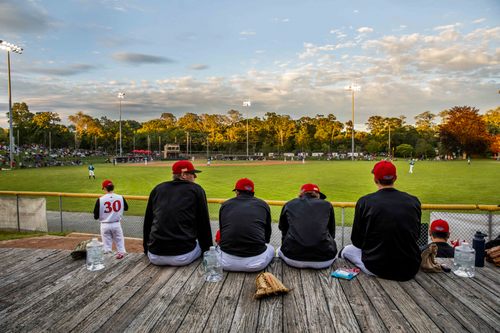 07/29/2019 4:36 AM
Article By: Evan Marinofsky


On any given night during the summer on Cape Cod, a kid from Louisiana is taking batting practice in Bourne, a native Floridian is fielding ground balls next to his new-found buddy from Dallas, a coach from North Carolina gives his second baseman from Arizona advice on hitting to the opposite field, and a pitcher from California refines his curveball.

The Cape League is a melting pot. That's part of what polishes its gleam. It's the premier summer baseball league in the country for collegiate players — who wouldn't want to play here?

For many players, a summer in the Cape League is foreign. Yes, there's the local kid who grew up cheering on the league only to now become a player. And then there's the schools around Massachusetts and the northeast represented that are special to the people on the Cape. But often overlooked is a simple storyline.

How do players from far away adjust to life on the Cape?


A summer on the Cape is make-or-break for many baseball players and being able to get used to life in a totally new place and region is a challenge in and of itself.

"I think it's good for them to be uncomfortable," said Orleans Firebirds manager Kelly Nicholson. "They need to be comfortable being uncomfortable because it'll be that way in the Minor Leagues. I know some of those guys in Low-A ball and rookie ball live with host families. I think this is all part of the experience of getting them ready for pro baseball."

In most cases, the uncomfortable times come in small moments. Options players may take for granted back home aren't there on the Cape.

"One thing that's different around here than back home is nothing around here stays open at night," said Bourne Braves' first baseman Cade Beloso. "Everything closes at like 10 O'Clock compared to back home where things stay open until like three. It's just a little different."

Beloso was raised in St Bernard, Louisiana, which is roughly 40 minutes outside of New Orleans. He grew up a fan of Louisiana State University and now he dawns the jersey of LSU as their first baseman.

Another player who faces similar problems is Nic Gonzales — a native of Vail, Arizona and an infielder for New Mexico State University.

"In New Mexico, everything's open," said Gonzales. "There's a Whataburger that's 24 hours and we got food all the time. But here, when it's past midnight and you get back from a game, you're either eating leftovers or a peanut butter and jelly sandwich. I think there's one McDonalds. I'm not sure though."

One positive is that for many down South, the weather on the Cape is a big upgrade.

"The weather is way more beautiful than it is in Texas or Mississippi," said Jordan Westburg. "It's not as hot, not nearly as hot. I love that. I love that you can wear a hoody at night. But other than that, it's just good vibes."

Westburg grew up in New Braunfels, Texas which is right outside of San Antonio. He joined the Hyannis Harbor Hawks late after he made a deep run in the College World Series with Mississippi State University.

Another Texan agreed with Westburg's assessment of the weather. It goes without saying that things can get quite hot in Texas and other parts of the South.

"I love the weather," said Bourne Braves infielder Jimmy Glowenke. "The nights are really cool. Back in Texas you get nights that are 100 degrees. But I love the weather. Sometimes we get to go to the beach so that's awesome. We don't get to do that in Dallas."

Glowenke's bat and glove shine for Dallas Baptist University. He's jumped onto the scene with the Bourne Braves this summer, hitting ,290. Clearly, he's taken to living and playing in the Cape League everyday quickly.

It's things like that — food and the weather — that make a big difference in the experience of a player in a league such as Cape Cod's. Now let's dive a bit deeper.

PRIOR EXPERIENCES HELPING THEM ON THE CAPE

For many players on the Cape, this isn't their first rodeo with being away from home. There are other summer leagues around the country that help shape the nation's best collegiate players. The Perfect Game Collegiate League is one.

"I played in a summer league last year that was in New York," said Jared DeSantolo. "That was pretty similar [to the Cape] — you go away and meet a bunch of new kids. Summer baseball in High School is the same thing. I was from Florida, but I played on a team out of Georgia, so I met a bunch of kids from a different state. I really enjoy that aspect of it — meeting people from different places is awesome and I always enjoy that time."

DeSantolo has proven that he can thrive away from his home state. With the Harbor Hawks this summer, he's batting .300 with an on-base percentage of .417. Last summer with the Newark Pilots saw him bat .293. The third baseman plays at Florida Atlantic University.

Another top collegiate summer league is the Great Lakes League. For Beloso, playing with the Lima Locos was vital to his success this summer because it was his first time truly away from home.

"I was fortunate enough to go to summer ball before college," said Beloso. "I spent the summer in Ohio in the Great Lakes League and that was pretty different — going away from home for the first time. It was definitely hard but I got through it and it puts life in a different perspective when you've got to do everything on your own compared to what mom and dad do for you when you're back home."

Beloso thrived with the Locos last summer, batting .320 with four home runs and 30 RBI.

The Northwoods is also a prominent collegiate summer league and Braves' third baseman Glowenke planned on spending his entire there in 2018. But due to an injury, his time with the Eau Claire Express was cut short and this summer has become his first big test.

"I was there for about two weeks and then ended up getting hurt, so I haven't had a lot of experience doing this kind of stuff, being this far away from home for this amount of time," he said. "But when you have a good team behind you and you love the guys that you play with, it makes it really easy and it's the same game no matter where you're at."

There's no doubt that previous experience helps when it comes to the Cape League. But for Gonzales, his experience came in the Cape last summer. Though even for 10 days, the impact was quite large.

"It did make a difference, because when I came in, I knew exactly when I was getting into," he said. "It helped me out. I wasn't so nervous at all. I really just transitioned smoothly."

FROM REAL FAMILIES TO HOST FAMILIES

Ah, host families. This is one of the most difficult things players from anywhere in the country — whether from New York or Hawaii — moving in with a group of strangers is always a tough task. But the Cape League's been having players stay with host families for decades and by almost all reviews, the experiences have been positive.

"Host families are definitely different," said Beloso. "You have some good ones, you have some ones that are different. You just have to get to know them because they don't know who you are, and you don't know who they are. You just have to get to know them and have a feel for them and follow their rules. Help out around the house and try to make their lives easier."

Many of these Cape League players aren't asking for much when they get put with a certain host family. All they're looking for is a simple place with a word many mentioned when talking about their host families: hospitality.

"They've been awesome," said Glowenke. "Really good hospitality and they've treated me very well so it's been awesome."

Westburg joined his host family late but has still adjusted well. He even loves the family pet.

"They're a nice family," said Westburg. "They have a bulldog that's to die for — so cute. 10-year-old son who's our bat boy. He'll be at most games. They're just a great family and they'll do anything for you if you ask. I wouldn't choose it any other way."

The Cape League gets many of its bat boys from host families.

One thing that the league really likes is for the players to work very closely with their host families. The idea is that the players are helping out around the house they've been allowed to stay in for the summer. It also helps make things feel more like home for the players.

"We put a lot of emphasis on working with your host family, the players interacting with your host family, interacting with the children," said Cotuit Kettleers GM Bruce Murphy. "Whether that's going to their little league game or taking them out for an ice cream. But try to be a family person."

A challenge that the league doesn't have much control over is the simple fact that players' parents aren't typically around.

"It's tough," said Westburg of being away from his parents. "When you're at the field most of the day, I try to get them a call anytime I can. Anytime I have some spare time, whether it's after the gym or after a game or before a game. Anytime I can find time to talk to them to let them know how I'm doing and see how they're doing. I have a little brother at home so checking on him too. Anytime I can, I try to talk to them."

For Glowenke, there's one person he misses above the rest.

"I just miss my mom, that's about it," he said. "I miss my mom. No home-sickness really. When you have a really good group go guys, you want to soak in every moment of it. But I would say I just miss my mom the most."

Obviously all of these players are away from their parents for a considerable length of time during the year when they're off at college. But for million of collegiate students around the country, summer is the time usually spent with family.

"It's different and it's also kind of cool at the same time," said Beloso of being on his own. "They don't ride you at home but they definitely don't have anyone here telling you what to do which is I think cool. You're kind of just doing your own thing."

One of the greatest challenges for each team in the Cape League is how they can make a perfect match between player and host family. It's a job that's usually successful.

"Each person is different," said Murphy. "You have to figure they all come from different backgrounds, lifestyles, where they're living on campus. For some of them it's a chance. Some of them haven't been home very much for a couple of years.

"When we recruit players, a question we always ask the coach is 'How's this person going to fit in with a host family?'. We need to be comfortable with putting them in with a host family. Might be very talented, but we also need to know that he's a team player and that he'll fit in with a host family. Very important to us."

Putting players with different host families often comes down to what their life is like back at home.

"We try to match up with a player profile and ask the what's some important moments in their life," said Murphy. "Do they like staying with younger brothers and sisters? We try to match it up that way so we don't match up someone who grew up by themselves with a family of six. We'll put that kid who has five brothers with that family. We try to match it up as much as we can. It works out pretty good."

ROUTINE DEPENDENT ON LOCATION?

Baseball players have definitive routines. For some it's superstition, while for most it's a legitimate way to get ready for that day's game. In the Cape league with players handling six games a week, routine is extremely important.

While waiting to talk with Gonzales, he went through meticulous batting practices. First, he'd work his swing perfectly trying to get the right angle for each type of pitch as he waited for his turn. Once at the plate, it was all business, as he drove pitches to every part of the field.

"For me," said Gonzales. "Back home, I know the location shouldn't really change it but it's different because I don't really have a car or transportation over here. In New Mexico, I loved getting a car wash, dressing nice for the game and then going to the field and hitting off a tee and doing certain drills.

"And then here I hit off a tee and do certain drills before the game. I think it's the same stuff. I try not to think about it too much, But I think it's right around the same stuff I did back home."

Added onto the different location for these players is that they're on their own, which means they must also do everything themselves.

"You have to wash your uniforms," said Beloso. "You have to drive everywhere and you have to stay true to your grind and your routines and have to be mentally ready to play everyday and get through that for two, three months. You just have to push through it whenever you're on your off-days. Just have to get through those."

DeSantolo was definitive in saying that location hasn't affected his routine.

"It's definitely a little different, but it's similar in a lot of ways to what I'd normally do back at home or at school," he said. "You wake up at a certain time, eat, go to the gym at a certain time and head to the field, which is basically what we do on a normal basis in the fall or spring at college. That part is very similar.

"Once you have a routine, you stick with it no matter where you are. I don't think it really matters what the location is."

Westburg has spent a lot of his collegiate days on the road. As mentioned earlier, he got to Hyannis late because of the College World Series with Mississippi State. His routine hinges on his ability to adapt to new places.

"I feel like it's what you make it," he said. "If you've got a good routine going, and you like the way that it works for you, you're going to find any way possible to keep that routine going no matter where you're at. I don't think it changes a lot. I think it's up to the player and his preferences."

Part of the general manager's jobs is to make players feel comfortable and one of those ways is to understand that each kid has their own individual routine.

"You kind of know what your day's planned like," said Murphy. "It's a routine. But it varies a little bit. Camp is different. Then you're traveling on the bus back and forth. You have testing with the major league scouts in here. You need to be ready to play everyday.

"I think that's one thing all the coaches preach is be ready everyday. There's 30-40 scouts here everyday. We need to be here and ready to play hard."

Though not something that directly impacts routine, Murphy also brought up a very interesting point with regard to how players approach each game with all the stellar talent surrounding them.

"We've had players from all over the country come in and I think bonding them together is the toughest," he said. "You sit on the bench and you look down the bench and you go 'He's a freshman All-American, he's a freshman All-American, he's a big conference player. How am I going to fit in? I'm at a smaller school'. Most of them are of out of big Division 1 programs but you still wonder how you're going to fit in. And the idea is that you're all going to fit in."

SEAFOOD - YAY OR NAY?

This was the million dollar question of every player from far away asked for this piece. When a baseball player comes to the Cape, they're not just playing in the top summer baseball league in the country — they're also in the seafood capital of the United States. Oysters are on standby, clams are pulled right from the water and onto the dinner plate and fresh lobsters are a way of life.

"Oh yeah," said Westburg. "I love seafood. I was in Maryland my first summer, so I got accustomed to a lot of seafood when I was up there. Even in Texas, my family has a house down on the Gulf so a lot of seafood there."

His favorite lobster dish is the lobster quesadillas at the Black Cat Tavern in Hyannis.

"Those were just to die for," he said. "That was my favorite lobster dish that I've had here."

For DeSantolo, his lifelong connection with the northeast has gotten him to love seafood.

"Actually I've had some family from Massachusetts," he said. "I've been around seafood a good amount of my life so I like and enjoy it."

It's obvious that the seafood in Texas isn't even close to "Cape-Quality", which means Glowenke gets a real chance to try the best of the best.

"I wasn't a big seafood guy until I came here," he said. "We like to go to Seafood Sam's so that's a good place. It's really good. I've gotten a chance to try a lot of seafood that I'd never try back in Texas and it's like legitimate seafood here so it's been awesome."

And then there are those who the Cape just hasn't converted yet.

"No, I don't eat seafood," said Gonzales. "Other than shrimp, I'll try it but I don't really like it. I'll try it but I'd never order it."

So being on the Cape hasn't done a thing to add seafood to your palate's favorites?

"Not at all. Not my thing."

Eventually he'll get there. Right?