League News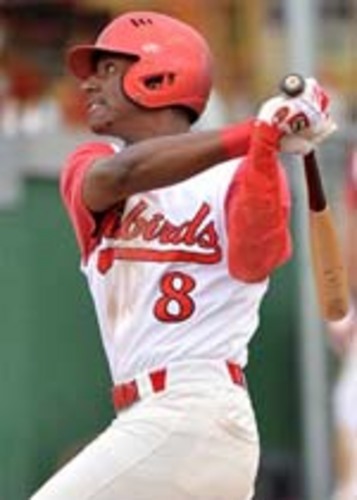 11/10/2020 6:10 AM
Article By: Taylor Viles

On Monday night, the MLB announced their 2020 rookie of the year (R.O.Y) awards. As usual, the Cape League was well represented by both those nominated and one of the winners.

Kyle Lewis was voted to win the award for the American League as he put together the Seattle Mariners first R.O.Y season since Ichiro Suzuki in 2001. He also became just the twelfth player in MLB history to win the vote unanimously. He beat out Luis Robert of the Chicago White Sox and Christian Javier of the Houston Astros.

In 2015, Lewis played for the Orleans Firebirds and showed a preview of what he would eventually display during his 2020 season. In 39 regular season games with Orleans, Lewis put on a show for the fans batting .300 with seven home runs.

"[Lewis] is a tremendous athlete. He was a really good high school basketball player," said longtime Firebirds manager Kelly Nicholson. "He's probably as good as we've had at least in my 19 seasons in Orleans athletically and production wise."

If not for current Boston Red Sox infielder Bobby Dalbec, Lewis would have led the Firebirds in most offensive categories. Dalbec collected 30 RBI's to Lewis's 24 and racked up a league leading 12 home runs. Although Dalbec had an impressive season in Boston, he didn't have enough at-bats to qualify him as a rookie. Pay attention to the young phenom next season as he could be a front runner for the award.

Lewis made the all-star team in 2015, representing the East Division. He then helped Orleans to the playoffs where their bats were stymied by the pitching staff of Yarmouth-Dennis in the second round. After a hard-fought game one win, Lewis scored the Firebirds' only run on a solo home run in the top of the 7th inning. They lost the game 2-1 in the 13th inning on a wild pitch and subsequently lost game three by the same score.

Nicholson said that Lewis already had visions of playing in the MLB while on the Firebirds. "He came up to me one day and said 'skip, I know you've been here a long time and have seen a lot of guys get to the major leagues, what do those guys look like?'" He responded to the young outfielder, saying those athletes look just like him.

Lewis's award-winning rookie season in the majors saw him play in every game but two for Seattle. He hit .262 with 11 home runs. He only committed two errors in centerfield, where he played the majority of his games.

In the National League, the Cape League had two chances to be represented by the R.O.Y winner. Jake Cronenworth (Brewster, '14) and Alec Bohm (Falmouth, '17) each put together tremendous rookie season's for the San Diego Padres and Philadelphia Phillies, respectively. Instead, voters opted to go with Devin Williams, a pitcher for the Milwaukee Brewers who acted as a reliever for the team this year. In 27 innings pitched, he only allowed one earned run, eight hits and nine walks while striking out 53. At season's end, his ERA was a miniscule 0.33.

Cronenworth and Bohm each collected 74 points in the award's voting, but Williams' 14 first place votes were enough to secure him the victory.

Congratulations to both Lewis and Williams on their impressive rookie seasons. All six players who were nominated for the R.O.Y award during 2020 are embarking on MLB careers with much potential. The Cape League will be paying special attention to their young alumni in Lewis, Cronenworth, and Bohm as they will continue to excite and show fans the talent that continues to be produced by Cape Cod each summer.