League News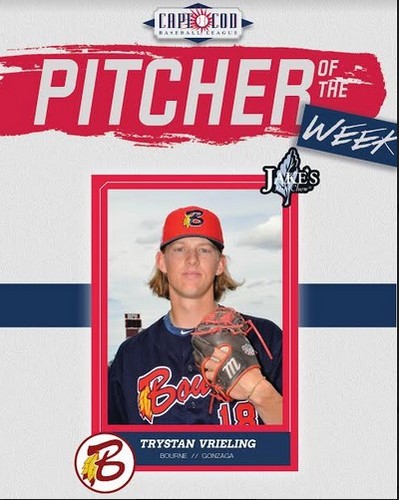 07/13/2021 5:08 AM
Article By: Ethan Kagno
Pitcher of the Week: Trystan Vrieling (Bourne Braves, Gonzaga)

Vrieling appeared in relief twice for the first place Bourne Braves this past week. He threw seven perfect innings and struck out eight batters against 21 batters faced. He earned his second victory of the season in a 10-3 defeat of Y-D and now sports a 0.87 ERA with a 0.68 WHIP. Batters can barely make contact off the Gonzaga right-hander as they are hitting a woeful .088 AVG so far this season. Vrieling's solid start has helped the Bravos continue their league dominance as they nurture an 12-2-3 record; thanks in part to a league-low 42 runs allowed.
"Try Jake's Mint Chew today for a healthy alternative to tobacco. Visit www.jakesmintchew.com for more information and use promo code "cape cod" for 15% off your first order.
Chew Healthy, Chew Jake's!