League News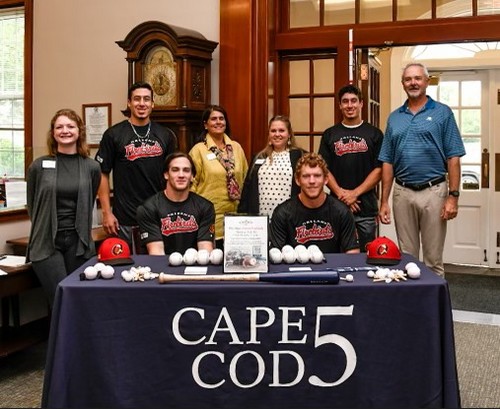 08/05/2021 4:31 AM
Article By: Taylor Viles
This week the Cape League Sponsorship Spotlight features Cape Cod 5, a community bank serving Cape Cod, the Islands, Southeastern Massachusetts and the surrounding areas. In addition to serving the financial needs of residents of the region, the company prides itself on
being active in the community. According to its website, the bank has contributed over $1 million annually over each of the last seven years to organizations that make a "positive impact in our region."

The Cape League is lucky enough to be one of those organizations. An ultimate supporter, CapeCod 5 is not only a sponsor of the league but also of all 10 teams.

Cape Cod 5 Co-President Bert Talerman noted the league's contribution to the local economy as one of the reasons the Bank has been a supporter for more than a decade. "The Cape League is an important summer attraction and economic driver in lots of ways for the region... [The league] is a unique and special aspect of the Cape and attracts people from here and elsewhere while providing family entertainment."

He continued, "We're proud to be a part of this summertime tradition as we feel it fits very nicelywith our mission as a community bank."

Talerman says it's important not only to support the league through sponsorships but also through fanship. Cape Cod 5 encourages its employees to take part in the summer baseball experience. By supporting each team individually, the Bank provides opportunities for its employees to enjoy an inclusive time at the ballpark where some staff members have even thrown out the first pitch.

We are grateful for the generosity that Cape Cod 5 has shown throughout the sponsorship and look forward to it continuing many years into the future.

If you are in need of a proven and reliable banking provider with personable customer service,check out Cape Cod 5.