League News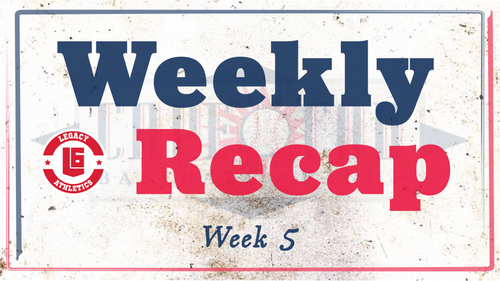 07/17/2022 10:31 AM
Article By: Brian Butler
The Cape Cod Baseball League crossed the three-quarters mark of its season this week, and the battles for playoff positioning have become increasingly intense. The teams are jockeying for spots in the standings, and the results have produced some incredible baseball. As the eyes of many in the baseball world turn to the MLB Draft, let's take a look at our Week 5 Recap presented by Legacy Athletics.

Bourne Braves (13-12-6): Matt Shaw, SS/INF, University of Maryland

Matt Shaw's spectacular summer continued this week for the Braves, and sees him return to the weekly recap. Shaw hit .400 on the week for the Bourne, propelling his average on the season up to a league-leading (amongst active players) .344. The Terrapin middle infielder also currently leads the league with 21.304 runs created on the summer, is tied for the league lead with nine doubles, and his sixteen RBI rank place him in a tie for sixth. Shaw's performance with Bourne this summer has been nothing short of outstanding, and has seen him climb even higher into early discussions for next summer's draft.

Brewster Whitecaps (13-12-6): Ryan Chasse, LHP, Campbell

Ryan Chasse is a man of many talents, but it's his pitching ability that earns him the spotlight this week. The Brewster reliever made two appearances this week, totaling 5.0 innings pitched, allowing just one hit while punching out twelve hitters. Chasse's week was supported by an impressive outing on Saturday night in which he pitched 3.1 innings, fanning eight, and picking up the save for the Whitecaps. When he's not shutting the door out of the Brewster bullpen, Chasse, who also has a passion for photography, can often be found roaming the park with a camera documenting what has been an extremely dominant summer for him.

Chatham Anglers (7-17-17): Caden Grice, 1B/P, Clemson

Caden Grice was perfect in every aspect of the game this week for the Anglers. The two-way star continued his dominance both on the bump and at the dish this week for Chatham, pitching five innings out of the bullpen on Sunday afternoon before returning to first base for the rest of the week's games. On the mound, Grice pitched five clean innings of relief, allowing just two hits and one unearned run while fanning six opposing hitters. At the plate, he hit .333, adding his fourth homer of the campaign and stringing together a nice four-game hit streak.

Cotuit Kettleers (17-9-5): Daniel Brooks, RHP, College of Charleston

Like a distant diamond sky, Daniel Brooks was untouchable this week for Cotuit. Across his two starts spanning seven scoreless innings for the Kettleers, Brooks allowed just five runners to reach base, two via a hit and three by way of the base on balls. While both of his performances were sensational, Brooks's masterclass was his Sunday start against Bourne in which he twirled 4.0 innings, allowing just one hit while setting down eight Braves batters on strikes. Opponents are hitting just .176 against the Cotuit righthander this season, and his spectacular performance this week lowered his ERA on the season to 2.93.

Falmouth Commodores (12-16-3): Drew Brutcher, OF, University of South Florida

Falmouth's bats stayed hot this week, and Drew Brutcher was among the players swinging a hot stick. The USF product slashed .364/.440/.500 across his six games on the week. Brutcher clubbed his third homer of the season in an impressive two-for-three performance against Brewster on Wednesday night, a game in which he also recorded two RBI and a walk. The Commodore outfielder also added five RBI to his totals this week, and ended the week riding an 11-game hitting streak.
Harwich Mariners (11-15-5): Zane Probst, RHP, Seton Hall

Zane Probst made his first start of the summer for the Mariners this week, and he certainly made it count. Probst pitched a gem against Wareham on Thursday, tossing seven scoreless innings, allowing just three hits while striking out six. The Harwich righthander has allowed just two earned runs across his 18 innings so far this season, holding hitters to just a .221 average against him.

Hyannis Harbor Hawks (16-9-6): Cole McConnell, CF/LF, Louisiana Tech

Cole McConnell certainly found his power stroke at the right time this week. As the Harbor Hawks are entrenched in a battle with Cotuit for first place in the West, McConnell blasted his first three home runs of the season, including two in the same contest against the Kettleers on Tuesday. The Hyannis outfielder's power surge raised his triple slash line on the season to .292/.349/.417, with the .292 batting average good enough for ninth in the circuit. McConnell also added a whopping eight RBI this week, vaulting him into a tie for third in the league with 17. The Louisiana Tech product also showed off his fleet feet this week, swiping four bags across his six contests to double his season total.

Orleans Firebirds (13-15-3): Nate Furman, 2B/SS, University of North Carolina at Charlotte

Nate Furman demonstrated his elite contact tool this week for the Firebirds. The Orleans middle infielder recorded a hit in every game this week, with all but one of those being multi-hit outings. The UNC Charlotte product's standout performance this week was highlighted by a 3-5 outing at Harwich on Tuesday, in which he also recorded two doubles and scored a run. Furman's sensational week raised his average on the season to .312, a mark that places him third among the league's active hitters. Furman ended the week riding an eight-game hitting streak, the last five of which have been multi-hit showings.

Wareham Gatemen (11-15-5): Ryan Campos, C/IF, Arizona State University

Ryan Campos strung together an impressive showing this week in Wareham. The Gateman infielder hit .385 on the week, adding five walks and two runs scored. Campos also hit safely in each of his appearances this week, highlighted by a 2-2 performance where he added a double and a run scored to go alongside two walks. The Arizona State product also stole a base to add to his rock-solid fifth week.

Yarmouth-Dennis Red Sox (16-9-6): Homer Bush Jr., CF, Grand Canyon

Homer Bush Jr. slapped the ball all over the yard for Y-D over the past seven days. The second-generation ballplayer hit .438 this week with the Red Sox, recording three multi-hit games in the process. The Grand Canyon product is consistently finding himself on base, as he has recorded a run scored in each of his past four games, and seven of his last eight. Bush will look to continue to be an elite table-setter for Y-D down the stretch.