League News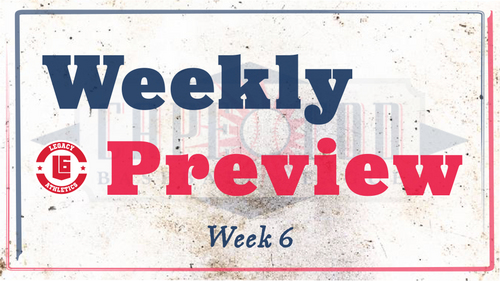 07/17/2022 10:56 PM
Article By: Ethan Kagno
We're in the middle of the 2022 MLB Draft and many Cape League alumni have heard their names called in the last few hours. While back on the Cape, one team is running away with the division as the other heats up. On Saturday, the league's best in each division are set to square away in the CCBL All-Star Game at Spillane Field. Here's the Week Six Preview presented by Legacy Athletics.
Headlines:
Yarmouth-Dennis Pulls Away in the East
The Sox have stayed hot, only losing twice in their last 10 contests. They now sit six points ahead of second-place Brewster, who are even at .500. The Red Sox have been led by Homer Bush Jr (Grand Canyon) and Luke Shliger (Maryland) during the past week, combining to bat 16-for-42 (.381). Yarmouth-Dennis is set to host Harwich Tuesday at 5 pm before heading to Connecticut on Wednesday to take on Hyannis.
The Wild West
While the East seems a bit more distant, the West has gotten even more competitive in recent weeks. Cotuit, Hyannis, and Bourne are within five points of each other, with the Kettleers leading the way by a mere point over Hyannis. Falmouth and Wareham have had their struggles recently, as they currently sit at the bottom of the West with 28 and 27 points, respectively. With the top four teams in each division promised playoff spots, the Commodores and Gatemen will have plenty to play for during the playoff push.
Players To Watch:

Nate Furman (Orleans/UNC Charlotte)
Nate Furman is on a tear. He has two or more hits in five of his last six games and owns a nine-game hit streak dating back to July 8th. He has raised his OPS nearly 100 points since then and has been an everyday regular in Kelly Nicholson's lineup.

Ben Hampton (Chatham/West Virginia)
Ben Hampton has been arguably the best pitcher on the Cape this season. He leads the league in strikeouts (36) and has walked just four. He's averaged 7.5 Ks over his last four starts and carries a 2.07 ERA and 0.82 WHIP for the Anglers.
Marquee Matchups:
July 20th: Yarmouth-Dennis vs Hyannis (11 am @ Dunkin Donuts Park, Hartford, CT)
Yarmouth-Dennis and Hyannis, two of the best teams on the Cape, travel out from their cozy Cape homes Wednesday morning to Dunkin' Donuts Park, home of the Hartford Yard Goats (Double-A Colorado). Y-D owns puts their league-best 17-9-6 record on the line heading into Connecticut and both teams carry the best run-differentials in the league. Hyannis currently owns the season series 1-0-1 so far, with the last game ending in a tie on the second of a back-to-back. Y-D looks to muster their first win against Hyannis in Hartford at 11 am on Wednesday.
July 23rd: East vs West All-Star Game (6 pm @ Spillane Field)
The 2022 Cape Cod Baseball League All-Star Game kicks off this Saturday night as the best of the best play one another at Spillane Field in Wareham. Before the ASG, there will be festivities starting at 2 pm, in addition to the fan-favorite, Home Run Derby! Earlier this week, the All-Star Game rosters were announced – you can view them here. Hope to see you cheering on the Cape League's finest, Saturday at 6 pm!