League News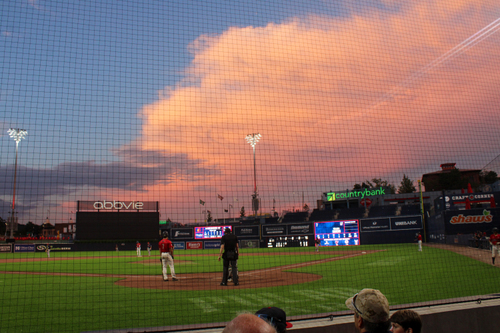 07/29/2022 6:53 AM
Article By: Kayla Gregoire
On July 24th, Polar Park was home to the Worcester Red Sox, the Triple-A affiliate of the Boston Red Sox. On July 25th, Polar Park was the home of the Cape Cod Baseball League for a day.

The Wareham Gatemen were set as the home team that day, and the Bourne Braves took being the away team. The Gatemen and Braves are the closest teams to the stadium. Wareham is a little over an hour drive to Worcester, while Bourne is only a few minutes extra.

This is the second game the CCBL has played at a minor league stadium. The Hartford Yard Goats hosted the Hyannis Harbor Hawks and Yarmouth-Dennis Red Sox on July 20th.

Throughout the game, the WooSox showed past Red Sox players that played on the Cape. Some of those names included Jason Varitek (Hyannis, 1991,1993), Kevin Youkilis (Bourne, 2000), Nomar Garciaparra (Orleans, 1993), and Chris Sale (Yarmouth-Dennis, 2009).

Braves Assistant Coach, Jarrod Saltalamacchia played with the Boston Red Sox. Saltalamacchia did not play at Polar Park due to how new the park is, but there were many Red Sox connections throughout the ballpark.

Even though the WooSox were not playing that day, the ballpark continued to feel reminiscent of a WooSox game. Many fans in the stands sat with their WooSox or Red Sox gear. "Sweet Caroline" by Neil Diamond, a WooSox and Red Sox tradition played in the eighth inning. The song had the stadium loud and even louder when screaming "so good, so good, so good".

The forecast heading into the day looked rainy for most of the game, but the weather held up and the teams were able to get the whole game in. There was only rain for a few minutes and the second the rain stopped the crowd immediately went back to their seats close to the field. The rain also gave the chance for a rainbow to appear above Polar Park as the game was played.

The cloudy weather did not stop the crowd from cheering for big plays in the game. It also did not stop the Braves from taking a 4-3 victory against the Gatemen. Bourne ended the day with a total of 10 hits. The Gatemen were not far behind with 8 hits.