League News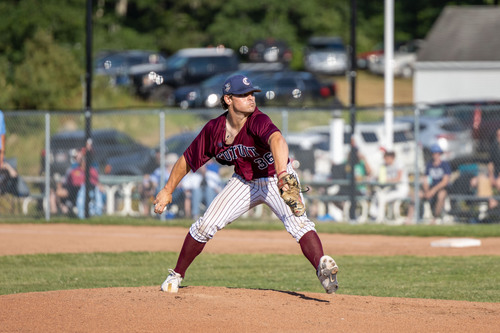 07/30/2022 9:38 PM
Article By: Kayla Gregoire
When talking to players and coaches around the Cotuit Kettleers organization, they always have something nice to say about Harrison Cohen.

Cohen has played on the Kettleers since the 2019 playoffs, but this year has been a different year for him. With a 2.27 ERA and being named to the 2022 All-Star roster for the first time, Cohen has made the most out of his time on the Cape.

The All-Star Game allowed the top talent on the Cape to showcase their skills in one game. Cohen had never gotten the chance to be named to the roster until this year.

"It was surreal," Cohen said on being named to the All-Star game roster. "I never really thought about being a Cape Cod All-Star. I have goals and dreams that I set for myself, but last year there was no game and this year I wasn't sure what to expect. Thankfully I made it, and it was an experience I'll never forget. Being named a Cape Cod All-Star is something no one can ever take away from me."

Cohen started playing baseball when he was three years old. He credits both of his parents for his love of baseball, but the one person he credits the most is his dad. Every trip to the baseball field was spent with his dad. Every day was spent with his dad to understand more about the game of baseball.

Cohen considers his dad his first baseball coach.

"He's my role model," Cohen said. "He's my hero as everyone says. He was with me every step of the way, so was my mom. Both of my parents were very involved, but my dad and I were closer in terms of baseball."

One of the most special memories for Cohen with his dad was the car rides to his games. The car rides were special for both of them and is a memory that they can always remember. Cohen's dad has taught him to continue to love baseball just the way he did when he was a kid. To this day they talk about baseball like his dad is a coach as Cohen has risen to a higher level.

In 2019, Cohen started his summer with a different summer collegiate league. He started his 2019 summer in the Hamptons Collegiate Baseball League with the Westhampton Aviators. In Cohen's time with the Aviators, he went on to win the Championship with them.

The HCBL was Cohen's first taste of collegiate baseball. Lucky for him, he grew up in Syosset, NY, a town that is not far from the Hamptons. Cohen would commute from home to his games, meaning he got to continue to spend time with his family during the summer.

"I had a lot of fun," Cohen said. "We had a really good team and a really close group. We won and that was awesome."

After Cohen pitched his last game for the Aviators, he knew that he would be coming to the CCBL, but he did not know what team he would be going to. Once he found out that he would be heading to Cotuit, Cohen was informed that right after his championship run, he would have to quickly make his way up to the Cape. The morning after Cohen won the championship, he woke up bright and early to be on the road at 6 a.m. to join the Kettleers.

Once Cohen arrived on the Cape, life started to move even faster for him. He did not know what to expect, but the morning after he got to the Cape he quickly got his uniform and threw a bullpen for Head Coach Mike Roberts.

"To come from the Hamptons, not really knowing what was going to really come of my experience here to possibly then having a contract for the next summer after not knowing what to expect, it was an awesome moment," Cohen said.

The first people Cohen called when going through the process were his parents, the people who have helped him through his whole baseball career. His parents came up to the Cape for the entire playoffs to see him pitch in multiple championship games.

"Them being able to see me pitch three times was something that I don't think any of us will ever forget," Cohen said.

Cohen's best memory on the Cape will always be his 10-day championship run with the Kettleers, but he also has a memory that helped pave his baseball career from last year. In 2021, Cohen had two outings in Wareham where he did not allow a run.

On July 12th, Cohen came in to pitch 4 scoreless innings, allowing only one hit and five strikeouts. The other appearance came almost two weeks after on July 25th in which he had a three-inning outing, letting up only one hit.

In his three years Cohen has built many relationships with players and coaches which is something he will always hold close to him.

"I wouldn't trade anything for the relationship I have with Coach Roberts," Cohen said. "Being able to come here and talk with the coaches, interns, and players. It's friendships that I will make for a lifetime."