League News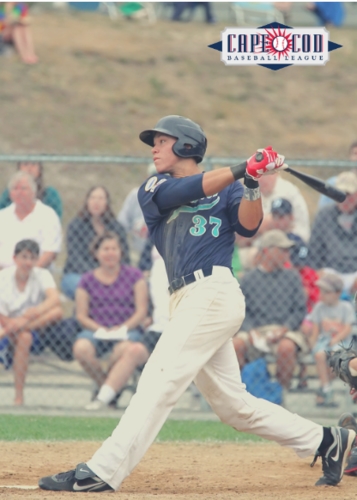 09/22/2022 10:24 PM
Article By: Ben Sinins
Aaron Judge has blown away all expectations dating back to his 2012 Cape Cod League season for the Brewster Whitecaps. For the 2022 MLB Season, Judge has already hit 60 home runs, on pace to break fellow Yankee Roger Maris' record of 61 and surpassing the MLB record outside the steroid era. With 13 games remaining, Judge may also join fellow Yankees greats Mickey Mantle and Lou Gehrig in winning the triple crown. He leads the American League in home runs (60), RBI (128) and batting average (.316).

This electrifying season is well beyond the projections for the 20-year old Fresno State sophomore, when Judge played for the Brewster Whitecaps a decade ago. His massive 6'7 frame as a position player made him an attraction. His legendary power would lead opposing teams to stop and watch Judge's batting practice. The late John Altobelli said watching Judge's BP looked like hitting "Pro V1 golf balls out of the ballpark." There are stories about a line drive Judge hit in the Cape that was just above the shortstop's head that hit the left field wall on a line. He would crush home runs, leaving little doubt about his strength. Scouts touted Judge as a potential "average hitter with 30-plus home runs per season," as well as an "occasional All-Star," who could turn into a ".250-.260 hitter". Baseball America picked Judge as the 6th best prospect out of 30 listed, yet described him as a "raw" hitter with open questions about contact and power.

These opinions were likely based on Judge's impressive, yet unremarkable time in Brewster. In 32 games, Judge belted 5 homers. His slash line of .270/.365/.450 and .815 OPS, showed a successful season but not among the Cape League best. Overall, within the Cape Cod League, Judge ranked 52nd in batting average. His home run count paled against the league leading 16. In comparison, future MLB stars, Kyle Schwarber and Tony Kemp, both batted .343 in 2012 for Wareham and Cotuit, respectively. Judge did not participate in the Cape Cod League All-Star Game. Yet a month after leaving Brewster, Judge won the collegiate Home Run Derby in Omaha, Nebraska.

The Aaron Judge legend only grows today. His amazing drive toward home run history in 2022 is a reminder how talent, sometimes obvious and sometimes not, runs deep in the Cape Cod League. Judge appreciated the opportunity in the Cape to face some of the best college players. No player from that 2012 season has made the impact on baseball like Aaron Judge. Despite an impressive showing in 2012, the soon-to-be home run king has come a long way since his time in the Cape Cod Baseball League.