League News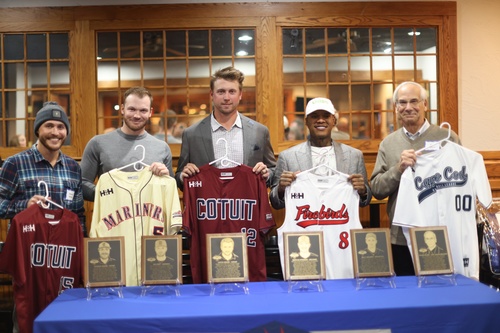 11/19/2022 7:50 PM
Article By: CCBL Public Relations Office
The 2022 Cape Cod Baseball League Hall of Fame Class were inducted November 20th, at the Wequassett Resort. Follow along on all of the Cape League social media channels including Instagram, Twitter and Facebook for live coverage throughout the day!
A video recap of the event with all the inductees speeches is available here or on the main page of the website! You can also find pictures from the event here, courtesy of Saylor Murphy (@SaylorMurphyPhoto on Instagram).

Marcus Stroman - Orleans
Marcus Stroman came to Orleans in 2010 following his freshman year at Duke. During that summer, pitching primarily in relief, Stroman allowed zero earned runs over 28 innings while striking out 35 batters and recording 11 saves. Opponents hit just .120 with a .312 OPS against him. He was named to the East Division All-Star Team and the All-League Team. Stroman returned to Orleans in 2011, pitching another six scoreless innings before he left to join Team USA, bringing his CCBL career total to 34 innings and zero runs allowed. He was selected 22nd overall in the 2012 MLB Draft by the Toronto Blue Jays. Stroman made his MLB debut in 2014 and finished his rookie year with a 3.65 ERA. He made an amazing recovery from a 2015 ACL injury to become the Jays' Opening Day starting pitcher in 2016, and completed his degree at Duke during his rehabilitation. His best season so far came in 2021 with the New York Mets, in which he made a league-leading 33 starts with career highs in ERA (3.02) and K/9 (7.9). Stroman has established himself as one of the premier fielding pitchers in all of baseball, having won a Gold Glove Award in 2017.
Ian Happ - Harwich
The Cincinnati product was a versatile standout for the Mariners during two summers in 2013 and 2014. On the Cape, Happ played seven positions, including all three outfield spots and pitcher. In 2013, joining the team initially as a temporary player, he led the Mariners in nearly every category, hitting .293 with seven doubles, five home runs, 22 runs scored, 22 RBI, 13 stolen bases and a .469 slugging percentage. In 2014, Happ finished ninth in the league batting at .329 with 12 doubles, four home runs, 26 RBI, 25 runs, and eight stolen bases. Happ's strong 2014 campaign led Harwich to a regular-season East Division title, with the Mariners finishing 26-16-2. Happ was an East Division All-Star both years, and was named to the All-League team in 2014. He was selected as the ninth overall pick in the first round of the 2015 MLB Draft by the Chicago Cubs. Happ made his MLB debut in 2017, hitting .253 with a .842 OPS, 24 homers and 68 RBI.
Billy Wagner, Brewster
From Ferrum College, Wagner was one of the most dominant pitchers in Cape League history for the Brewster Whitecaps. In 1992, the fire-balling southpaw posted a 3-2 record, 3.65 ERA and struck out 79 batters in just 44 innings (16.2 K/9, still a CCBL record) while being named the East Division MVP of the All-Star Game and the league's Most Outstanding Pro Prospect. During his collegiate career, he posted a 17-3 record and set a Division III record with 327 career strikeouts in 182.1 innings (16.1 K/9). Wagner was a top-rated college prospect in the 1993 MLB Draft, where he was taken 12th overall by the Astros. He made his MLB debut in 1995 with the Astros. During his 16-year professional career, Wagner posted a 47-40 record, 2.31 ERA and 422 saves in 853 relief appearances. His best seasons were 1999 in Houston, when he recorded 39 saves with a 1.57 ERA, and 2005 with Philadelphia when he had a 1.78 ERA and 38 saves in a league-leading 70 games. He was a seven-time MLB All-Star and won the National League Rolaids Relief Man Award in 1999.

Justin Smoak, Cotuit
During the summer of 2006, following his freshman year at South Carolina, Smoak led all hitters in the Cape League with 11 home runs, 21 extra-base hits, 87 total bases, and a .565 slugging percentage to capture the league MVP. That season, he was voted team MVP for the Cotuit Kettleers, who won the regular-season Western Division title with a 26-16-1 record. Smoak was named the starting first baseman for the West Division All-Stars and was named the All-League first baseman at the end of the season. He holds multiple South Carolina career records including: home runs (62), RBI (207), and walks (151). Smoak was selected 11th overall in the 2008 MLB Draft by the Texas Rangers. He made his MLB debut with Texas in 2010. He went on to enjoy an 11-year major league career playing with Texas, Seattle, Toronto, Milwaukee and San Francisco. He was selected to the American League All-Star team in 2017. The switch-hitter concluded his major league career in 2020 with 196 home runs and 570 RBI.
Patrick Biondi, Cotuit
A native of Woodhaven, MI, Biondi played at Michigan where he was named All-Big Ten Second Team in both 2011 and 2012. As a senior in 2013, Biondi won the Big Ten Sportsmanship Award. He came to the Cape in 2011 and hit .172 for Cotuit, but did impress with 12 stolen bases. Then, in the summer of 2012, playing outfield for the Kettleers, he flirted with the .400 batting mark before finishing the season with a league-leading .388 batting average and was named Cotuit's team MVP. Biondi earned a starting spot on the West Division All-Star Team and was named Coca Cola's Player of the Week in the season's fourth week. Playing in 41 of Cotuit's 44 games, he concluded the season with a .478 on-base percentage, 37 runs scored, six doubles, 19 RBI and 14 stolen bases to help his team maintain the top spot in the Western Division with 30 wins. Biondi was drafted in the ninth round of the 2013 MLB Draft by the New York Mets. He went on to spend six seasons and played over 550 games in the minor leagues, making it as high as AAA, before his professional career ended in 2019.
Steven Wilson, Cape League Executive
For over three decades, Steve Wilson was the quintessential Cape League volunteer, working tirelessly to improve the league while demonstrating fiscal responsibility. His meticulous management of the CCBL finances for 30 years as the league's treasurer demonstrated his peerless attention to detail. Steve's development of the league's 5-year budget plan proved to be one of his most significant accomplishments in guiding the CCBL toward financial stability. As the first webmaster, Wilson managed content and technical support for the league's highly popular website. He advocated for constant upgrades to the franchises' broadcasting capabilities as a means of promoting the league nationwide. A thoughtful and quiet presence since 1986, he helped guide the league through unparalleled growth and success. In 2008, Wilson was recognized as the league's Richard (Dick) Sullivan Executive of the Year. Steve had a distinguished career as School Psychologist for the Harwich Public Schools and served as both assistant and head coach of the Harwich High School baseball team and then head coach of Monomoy Regional High School.