League News
05/30/2001 12:03 PM
Article By:
For immediate release: 30 May, 2001
Cape League Irish Trio Posts Stellar Campaign
SOUTH BEND, IN - They merely came to Cape Cod to hone their baseball skills.
What entailed instead for a trio of Cape Cod Baseball League alums and Notre Dame University baseball stars this spring was a magical ride toward the Irish history books.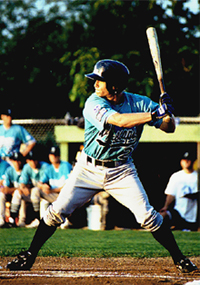 Coming off a Cape League batting title and Brewster championship in 2000, Notre Dame "table setter" Steve Stanley permanently etched his name in the Irish record books this spring.
Photo by S. Walsh
Hyannis Mets slugger and Sprint PCS Cape League 2000 All-Star MVP Brian Stavisky and former Brewster Whitecaps all-stars and team leaders Paul O'Toole and Steve Stanley combined forces this spring to lead the Notre Dame nine to its best record ever at 49-13-1. Monday, Memorial Day, this storied Irish baseball season ended when Notre Dame fell to Florida International, 5-4 in the championship game of the NCAA South Bend Regional.
Nevertheless, it was an incredible campaign for O'Toole, Stavisky and Stanley - all three of whom utilized their stints in the Cape League to become not merely better prepared for the 2001 spring, but to become noticed by Big League scouts.
In his second Cape League season in 2000, Stanley led the Cape League in hitting (.329) and in so doing helped lead his Brewster Whitecaps club to its first-ever league championship. O'Toole did much the same, turning in an all-star performance behind the plate for the Whitecaps (.273) and being selected as the league's top catcher along with Georgia Tech's Tyler Parker.
Ironically, it was Stavisky's upstart Hyannis Mets club that squared off versus the Whitecaps in the 2000 CCBL Championship Game. Stavisky also finished second behind Stanley in batting (.324) but led the league in hits (55). Next to Notre Dame, only Georgia Tech (alma mater to former Cape Leaguers Nomar Garciaparra and Jason Varitek of the Boston Red Sox) had as many of its players named to the all-star team.
With their efforts combined for Notre Dame this spring, O'Toole, Stavisky and Stanley showed the entire baseball world their summer feats in the Cape League were no fluke.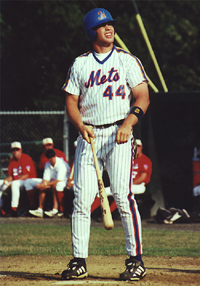 Rarely did 2000 Hyannis Mets all-star Brian Stavisky disappoint last summer, or this spring for that matter for his stellar Fighting Irish nine. Photo by S.Walsh
In postseason play this spring, Stavisky went an incredible 10-21 with four home runs, 11 RBI and three doubles. Stanley? The brilliant Irish centerfielder hit .400 for the season and ended 7th in Notre Dame history in career batting average (.364), 6th in hits (266) and 7th in at-bats (732). His 76 runs scored this season rank 4th all-time for a single season at the world-renowned institution. The diminutive but highly skilled ballplayer also finished the 2001 campaign with 100 hits even, only the second ND player to ever do so. As if all that wasn't enough, Stanley has one more year to go at Notre Dame (Class of 2002) and at this time he ranks 5th all-time in stolen bases.
A rare, draft-eligible sophomore, Stavisky was ranked by Baseball America as the number 17 draft-eligible player in the nation. Only Notre Dame and Georgia Tech have as many as three players in the top 25 of those expected to be drafted next week by Major League ball clubs.
Still, Stavisky has signed a letter of commitment to return to the Hyannis Mets this summer and if he does, he may very well prove to be one the most popular people on Cape Cod.
A leading Academic All-American candidate, named the 2001 BIG EAST Conference preseason player of the year, cited as a second-team preseason All-American, Stavisky hit .386 this spring with 10 home runs and 66 RBI (1st) for the Irish this spring. He carried an intense .697 slugging percentage to lead Notre Dame in that category, was second behind Stanley (102) in hits with 81, led in on-base percentage (.467), and was either tops or one of the top five in virtually every noteworthy offensive category.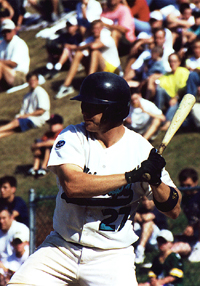 Notre Dame backstop Paul O'Toole learned how to hone his leadership skills with a Cape League championship last summer (Brewster), and in so doing charged the Irish this spring to their best baseball record in school history.
Photo by S.Walsh
So were fellow Cape League all-stars Stanley and O'Toole.
O'Toole, a third-year catcher with the Irish and a Freshman All-American, held a respectable clip at the plate (.323) just behind Stanley and Stavisky and was a team leader in just about every category from walks to plate appearances to base thefts (15).
With remarkable speed for a catcher, O'Toole finished his junior season with 16 lifetime home runs and 28 lifetime steals, putting him in the unique position of being capable of accomplishing a rare 30-30 feat at ND: 30 homers and 30 steals.
More importantly, it was O'Toole's precise brand of "spirited" leadership that MLB scouts saw in the Cape league last summer and that he carried with him to ND's best baseball season in decades. A fellow BIG EAST All-Rookie Team member with Stanley, O'Toole joined his two Cape League pals and Irish teammates as 2001 preseason all-BIG East Team members as well as garnering kudos from Baseball America as the nation's top "defensive catcher."
-- Story and photos by Sean Walsh