League News
07/16/2001 11:50 AM
Article By:
For immediate release: 16 July, 2001
Two More Cape League Stars Leave for the Big Leagues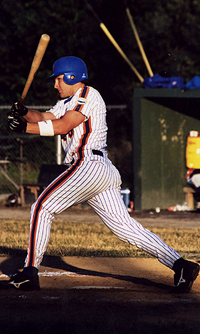 Hyannis Mets' all-star shortstop Brendan Harris (William & Mary) signed a contract today (July 16) with the Chicago Cubs.
Sean Walsh/CCBL 2001
HYANNIS -- Mets' second-year all-star shortstop Brendan Harris (William & Marry) left his team Monday (July 16) after heading hoem to sign a deal with the Chicago Cubs. Harris played in his final game for the Mets Sunday evening at McKeon Field, playing a fabulous game in the infield. Named to the 2001 West Division All-Star Team, Harris was poised to make his second all-star appearance this week before news of his signing was confirmed by Mets' Field Manager Mike Juhl.Selected 138th overall (Fifth Round) in this year's Major League Baseball First-Year Player Draft, Harris came late to the Cape League this summer when it a deal with the Cubs wasn't imminent. His continued success as one of the league's top infielders may have helped push the Cubs to sign him.

In 2000, Harris started at second base on the West Division All-Star Team and also played versus Team USA. He finished eighth in the league in batting (.302) and second in RBI (30), was fourth in hits (49) and fourth in runs scored (29).
This season, Harris played in just 15 games, finishing at .241 before signing his contract. At William & Mary this spring, Harris was named to the first team All-CAA, All-Region and was named a third team All-American.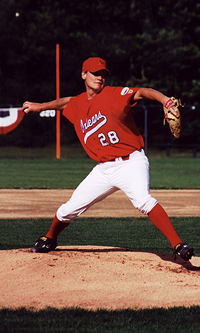 Orleans Cardinals' righty Rhett Parrott (Georgia Tech) left the Cape League this week after signing with the St. Louis Cardinals.
Sean Walsh/CCBL 2001
He led William & Mary in hitting (.390), hits (85), runs (73), home runs (18) and RBI (69). He led the William & Mary ballclub to a 35-20 record (a school record for wins), its first CAA baseball title and an appearance in the NCAA Tournament. His run, hits, home runs and RBI totals this season all set school records and he is the school's career record holder in doubles (59) and slugging percentage (.649).

Earlier this week, third-year Cape League ace Rhett Parrott (Georgia Tech) inked a deal wih the St. Louis Cardinals. Parrott pitched for the Wareham Gatemen in 1999 (1-1, 2.55 ERA) and 2000 (3-2, 2.22 ERA; 51 Ks) and went to Orleans this summer rather than signing an immediate deal with St. Louis. Parrott went 8-3 for the 2000 Ramblin' Wreck of Georgia Tech and 9-5 this spring (4.89 ERA). Named a pre-season All-American this spring, Parrott was a fourth-round draft selection by the Milwaukee Brewers in 1998 but opted to enroll at Tech instead.

Earlier this season, Justin Lord (Florida State) of the Hyannis Mets departed prematurely when he signed a deal with the Kansas City Royals.

-- Sean Walsh, CCBL