League News
08/02/2001 11:47 AM
Article By:
For immediate release: 2 August, 2001
Yet Another Cape Leaguer Departs for the Big Time

YARMOUTH -- While still a student-athlete at Cypress Junior College in late spring 2000, Brandon Luna began a two-summer journey through the Cape Cod Baseball League that would garner him a baseball scholarship to prestigious Auburn University, two Cape League all-star appearances, a two-year record of 4-2 with 64 Ks in 47.2 relief innings pitched and ultimately, this week, a contract with the Texas Rangers.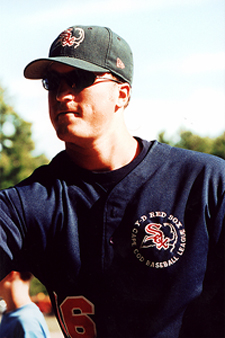 Y-D Red Sox closer Brandon Luna (Auburn) departed for Single A ball with the Savannah Sand Gnats, a farm club of the Texas Rangers. Sean Walsh/CCBL 2001

The lanky, 6'5" Yarmouth-Dennis Red Sox closer left his playoff-contending squad this week to report to the Savannah Sand Gnats, the Rangers' Single A farm club in Savannah, Georgia. Luna was 2-2 this season with the Red Sox, with a 1.88 ERA in 14 appearances. All totaled, he worked 24 innings of relief with 31 Ks and eight walks. He had eight saves for the second place Red Sox and was a major reason why the Sox held onto first place in the East Division this summer for a majority of the season. The Sox close out their regular-season schedule this Sunday (Aug. 5) versus the West Division playoff-contending Falmouth Commodores at Red Wilson Field. Luna is the second Y-D righty to leave the Cape this week as two-year Cape Leaguer Bobby Korecky (Michigan/3-3) went home early.

Last summer, Luna was 2-0 for the Sox with a 0.00 ERA and 33 Ks in 23.2 innings pitched. He pitched one inning of relief in the July 21 CCBL All-Star Game at Falmouth, striking out two batters. He also pitched one inning of relief versus the New England Collegiate Baseball League All-Stars, again striking out two batters.

Affable, polite and hard-working, Luna never appeared to lose sight of his ultimate goal while serving as the Y-D "Big Gun" in closing situations for Field Manager Scott Pickler. Perhaps evidence of this came when, during the entire four-hour trip from Cape Cod to Keene, NH and back home again, the almost boyish Luna never once removed his brand new Rawlings baseball mitt.
"Just trying to break it in,'' he said with a grin when asked about why he wouldn't remove the glove except to show it to one admirer of it. "Getting the hand used to it."

-- Sean Walsh/CCBL 2001