League News
08/19/2001 11:37 AM
Article By:
for immediate release: 19 August, 2001
Trundy and Farris
Only Two West Division Skippers to Return in 2002

FALMOUTH -- Falmouth Commodores General Manager Chuck Sturtevant announced last week (Aug. 15) that three-year Field Manager Jeff Trundy (The Gunnery) had accepted an invitation to return to the Commodore helm in 2002, bringing with him his entire coaching staff from the 2001 season.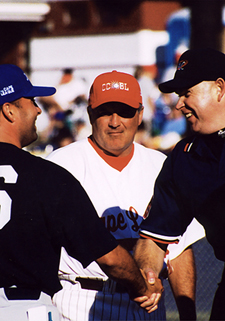 Falmouth Commodores Field Manager Jeff Trundy and his entire 2001 staff will return in 2002, while other CCBL helmsman were not so fortunate.
Sean Walsh/CCBL 2001
Trundy's assistants include Eddie Loesner (East Carolina), Mike Reed (Babson) and Mike grant (Northeastern). Since Trundy's first season at the Falmouth helm in 1998, he has compiled a 76-98-2 record. This season, his best in the win column and closest bid in his Cape League career to making the playoffs, Trundy finished at a highly respectable 23-19-2 mark. In an almost uncanny twist to end the 2001 season, Trundy's squad dropped two must-win games on the last day of the regular season - both shutouts. The season-ending losses, combined with Bourne's win over first-place Wareham, pushed the Braves into the playoffs for the first time since 1998.

Regardless, Trundy's best-yet campaign, great baseball mind and affable personality combined to garner him an invitation back to the Falmouth manager's post. Thus far, Trundy's teams have finished in 4th place (1998, 20-24), last place (1999, 12-32), third place (2000, 21-23) and third place (2001, 23-19-2).

Joining Trundy in the West Division is 2001 Cape League Manager of the Year Cooper Farris (Mississippi Gulf Coast CC) who also plans to bring back his entire Wareham Gatemen coaching staff for 2002. Following a focused, driven Championship season, Farris will again have at his side Ryan Beggs (New Mexico), Rodney Batts (Delta State) and Darrell Heckman (Lake Placid, FL High School). After eliminating the Bourne Braves in the Divisional Series (2-0), Wareham went on to scrap it out with Chatham in the Championship series. After splitting a game apiece, Farris went on to lead his squad to an exciting bottom-of-the-ninth, two-out win to take home the 2001 Arnold Mycock Cape Cod Baseball League Championship Trophy.

Not returning to their respective teams in 2002 are Braves coach Spencer Graham (VMI), Hyannis Mets Field Manager Mike Juhl (SUNY-New Paltz) and Cotuit Kettleer Field Manager Mike Coutts.

Coutts, who managed the Kettleers to CCBL Championships in 1995 and 1999 and was at the helm for five seasons, finished with a lifetime win-loss record of 110-93-11. His successor in 2002 will be Garrett Quinn, Coutts' top assistant in 2001. Much to Coutts' and his players' credit, the Kettleers wrapped up 2001 by stepping out of the cellar and into a hot 9-1 streak to finish at a respectable .500 at 20-20-4.

For Graham, his Braves were in first place in the West Division for much of the season, falling prey to a variety of problems around the all-star break, not least of which was the untimely loss of Relief Pitcher of the Year Ryan Speier (Radford). Speier's signing of a Major League contract left the Braves without the ninth inning closer they had relied so heavily upon for most of the season. All totaled, Speier saved 16 games breaking the CCBL's all-time mark set by Derrick DePriest of the Chatham A's in 1999 (15). Nevertheless, Graham's troops toughed it out through the regular season's final weekend, beating first place Wareham two games in a row and getting a wild card from the Commodores who dropped two games on the season's last day.

In turn, Wareham would give Bourne a taste of its own medicine, sweeping the Braves 2-0 in the Divisional Series.

In Hyannis, the Mets closed things out by finishing dead last in the West but it wasn't for a lack of hitting. First-year field manager Mike Juhl (SUNY-New Paltz) had Ryan Barthelemy (Florida State), Georgia Tech's Jason Perry and Notre Dame's Brian Stavisky wielding some wicked lumber throughout the 2001 campaign. The downside for the two-time Cape League All-Star hurler turned manager, was his team's lack of pitching.. In the end, Juhl's apparent invitation to return to the Mets was rescinded on a vote by the franchise's executive committee.
In the East Division, Chatham's estimable and longtime Field Manager John Schiffner made yet another bid at the CCBL Crown, tying the Y-D Red Sox for first place honors in the regular season, then taking the Sox in two games in the Divisional Series to meet up with Wareham in the finals.


In the East Division, Chatham A's skipper John Schiffner will return for his ninth season at the helm. At this time Orleans may be the only team with a new manager, former Cardinals' assistant Carmen Carcone.
Sean Walsh/CCBL 2001

Interestingly, not only will Schiffner and likely the bulk of his staff return in 2002, but a good portion of the A's 2001 roster is already locked up for a return to the Veterans Field diamond including Luke Carlin (Northeastern), Zane Carlson (Baylor), Ryan Childs (Clemson), Ben Clayton (Wake Forest), Jeremy Cleveland (UNC), Frasier Dizard (USC), Adam Greenberg (UNC), Brad Halsey (Hill JC), Corey Hamman (Montclair State), Rich Hill (Michigan ), Ryan Johnson (Wake Forest), Bobby Malek (Michigan State), Mike McCoy (San Diego), Drew Meyer (South Carolina), Mike Moon (USC), Daniel Moore (UNC), John Schneider (Delaware), Pete Soteropoulos (UConn) and Brad Ziegler (Southwest Missouri). All totaled, that would mean 19 of Chatham's 25 players in 2001 would be returning for a second bid at the title, all except David Bush, Kris Cox, Rich McGuire, Karl Nonemaker and Dan Krines.

Again expected to man the Y-D helm is Cypress JC's Scott Pickler who enjoyed his best season-ever in 2001, while Harwich has again asked Paul "Buddy" Custer (Baseball Factory) to return, the Brewster Whitecaps are counting on Billy Jones and Orleans has hired former assistant coach Carmen Carcone to take over following Don Norris' retirement.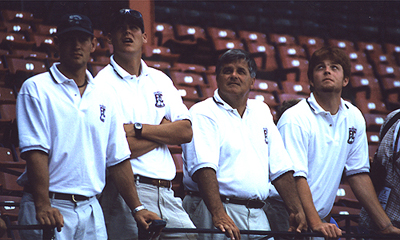 Flanked by the bulk of his top 2001 all-star players -- (from left) Hunter Brown, Steve Jackson and Steven Herce -- at Fenway Park on July 25, Falmouth Commodores Field Manager masterminded a great season and winning record.
Sean Walsh/CCBL 2001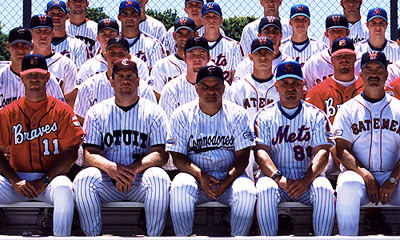 Only two of this year's West Division Field Managers will be returning in 2001, including Falmouth Commodore helmsman Jeff Trundy (center) and 2001 Manager of the Year Cooper Farris (far right) of the Wareham Gatemen. Both Trundy and Farris will breing along their coaching staffs while Spencer Graham (far left), Cotuit's Mike Coutts and Hyannis Mike Juhl (second from right) will not be back as managers. Coutts, who led the Kettleers to two CCBL Championships ('95 & '99) retired to spend more time with his family.
Sean Walsh/CCBL 2001

-- Sean Walsh/CCBL 2001