League News
12/28/2001 11:28 AM
Article By:
for immediate release: 28 December, 2001
Bourne Braves to host
Winter FanFest
with Gammons and Major League Line-up


BOURNE – The Bourne Braves are hosting the Cape League franchise's first-ever Winter FanFest, Saturday, Feb. 2 at the Sea Crest Resort & Conference Center (North Falmouth) and it may be easy for baseball fans to see why this event is expected to be a Big League smash.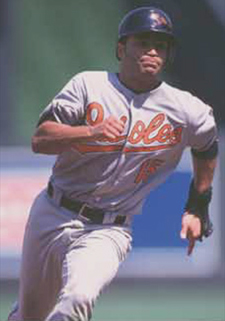 Baltimore Orioles' second baseman
Jerry Hairston will be just one of many Major Leaguers who will join ESPN's Peter Gammons at the Sea Crest (N. Falmouth)
On Saturday, Feb. 2 at 6 p.m.
to raise money for the Bourne Braves.
Photo Courtesy Baltimore Orioles/MLB


The Braves' Board of Directors announced this week that joining ESPN baseball guru Peter Gammons on the dais will be six former Braves' stars who went on to play Major League baseball, including Ron Villone, Jerry Hairston, Mark DeRosa, Brandon Inge, Mark Johnson and John McDonald.

In addition to Gammons serving as the evening's emcee and former Braves-turned-pro offering their Cape League memories, the fundraiser will boast autograph sessions, a very special 50-50 raffle with a wide array of authentic Major League Baseball memorabilia and autographed items offered in silent auction, a full course dinner and an evening of music and dancing.

Sponsored by Merrill Lynch, the event promises to be the biggest in Bourne Braves' history. It is also an evening that reflects former Braves' debts of gratitude to the influence Cape League baseball had on their playing careers.

"I am extremely grateful to Peter Gammons for his participating in this event," said Braves' president Lynn Ladetto. "We needed to do something different to promote our organization for 2002… we were concerned about meeting our organization's obligations for 2002. Peter was so generous. We are just thrilled that he came forward with this idea and was willing to promote the event and emcee. We couldn't of asked for a better gift."

With the Colorado Rockies and Houston Astros in 2001, Villone broke into Major League Baseball in 1995 with the San Diego Padres. He has pitched for the Seattle Mariners, Cleveland Indians, Cincinnati Reds and Milwaukee Brewers. In 1992, Villone led the Braves to a 19-23-1 third place finish in the West Division, hurling an 18-strikeout, 6-0 shutout versus the Hyannis Mets in his Cape League debut, tying the team record for Ks in a game. Drafted in the first round by Seattle out of UMass-Amherst, Villone went 1-0 that summer with a 2.35 ERA in 15.1 innings pitched. He struck out 32 total.

Jerry Hairston, whose father, grandfather and uncle all played Major League Baseball, started at second base in the final 49 games of the 2001 season for the Baltimore Orioles. The scrappy, 5'10" infielder played for the Braves in 1996 and Wareham in 1997, but it was with Bourne in 1996 that Hairston (Southern Illinois) batted a solid .281 in 37 games, scoring 39 runs and collecting 52 hits. He played in just 10 games for Wareham in 1997.

An All-State football and baseball player in high school (Oradell, NJ), Bourne Braves' alum Mark DeRosa has spent a good part of the past four seasons with the Atlanta Braves, filling in at shortstop. Out of the University of Pennsylvania, DeRosa batted a stellar .304 for the Braves in 1995, playing in all 44 games with 61 hits, 1 home run and 26 RBI. DeRosa, who played under current CCBL commissioner Bob Stead in 1995, was the league's top fielding third baseman with a .918 fielding percentage. He was named to the 1995 Final All-Star Team.

A 1997 Cape League West Division All-Star, Detroit Tigers' catcher Brandon Inge (Virginia Commonwealth) batted .265 with 5 home runs and 19 RBI for the 25-17-2 Braves (2nd Place) and joined fellow Detroit Tiger Jeff Weaver (Falmouth) as a Cape League all-star as a shortstop. Inge was named to the 1997 Final All-Star team.

Cleveland Indians' shortstop John McDonald batted .226 for the Bourne Braves in 1995 while starring in the spring for Providence College. McDonald spent two separate stints with Cleveland from August 24-31 in 2001and from Sept. 4 through the remainder of the regular season after the roster expanded to 40. With Cleveland he appeared in 7 games at shortstop and 2 games at second base and was 2-2 as a pinch-hitter.

New York Mets outfielder/first baseman Mark Johnson, who broke into the Bigs with the Pittsburgh Pirates in 1995, played for the Bourne Braves in 1988 and 1989.

Other Major Leaguers who played for the Bourne Braves and who have indicated they may attend this star-studded event include Jeremy Giambi (Oakland A's), Mark Kotsay (San Diego Padres), Mark Mulder (Oakland A's) and Dan Reichert (KC Royals).

Tickets for the 6 p.m. event are now being sold by the Bourne Braves at $50 for adults and $25 for children. Local disc jockey Kevin McGonagle has donated his services for the event. Major sponsors include The Sea Crest and Merrill Lynch.

To purchase tickets via credit card, please fax your credit card information to Bourne Braves President Lynn Ladetto at (508) 833-9250 or call her office directly at (508) 888-5080. Tickets may also be purchased by check or money order by sending to: Bourne Braves Winter FanFest Fundraiser, PO Box 895, Monument Beach, MA 02553. E-mail inquiries or ticket requests may be sent to [email protected].