League News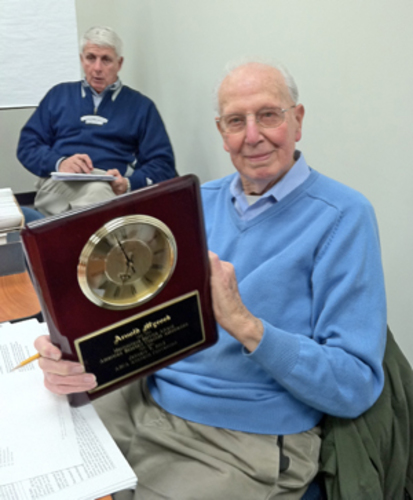 02/14/2012 6:28 PM
Article By: John Garner Jr.
The American Baseball Coaches Association's Meritorious Service Award has been presented to "Mr. Cape League," Arnold Mycock.

Mycock has been involved with the Cotuit Kettleers and CCBL since 1950 and as general manager recruited such Cape League Hall of Famers as Jeff Reardon, Ron Darling, Will Clark, Josh Paul, Terry Steinbach, Bob Butkus, Jack McCarthy, Jim Perkins, Jim Hubbard, Greg Lotzar, Bob Hansen, Jeff Innes, Paul O'Neil, Lou Merloni and Greg Vaughn, just to name a few.
Mycock was inducted into the inaugural Hall of Fame class in 2000 and honored before the first Cape League vs. U.S. Military Game in 2005. The league's playoff championship trophy is named for him and he has served on the CCBL Hall of Fame committee since its inception in 1999.
CCBL President Judy Walden Scarafile received this award in 2009 and accepted for Arnold in Anaheim and presented it in person to him at Monday night's CCBL Hall of Fame Committee meeting in Hyannis. Shown in the background is fellow committee member Bob Corradi.