League News
03/27/2006 2:55 PM
Article By:
for immediate release: 27 March, 2006
Former Cape League MVP and Hall of Famer Ron Darling
Debuts as New York Mets Color Announcer
CAPE COD, Mass. – On Opening Day 2006, New York Mets fans will be introduced to a new broadcasting team comprised of two members of the 1986 Mets' World Championship team.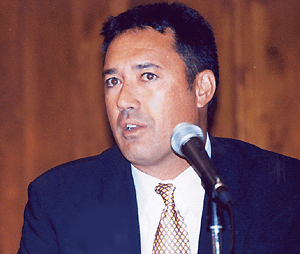 Ron Darling answers questions at CCBL Hall of Fame weekend at Chatham Bars Inn in November, 2002.
CCBL Photo 2002
Former teammates Keith Hernandez and Cape Cod Baseball League Hall of Famer Ron Darling join longtime Mets play-by-play radio announcer Gary Cohen to provide in-depth analysis, as well as contribute to pre- and post-game programs.

"As we approach the 20-year anniversary of the Mets' 1986 World Championship, it is such a great gift for me to start with a new network that covers the Mets in a city where I literally grew up," Darling noted upon acceptance of the position. Before he "grew up" in New York playing for the "Amazins," he spent the summer before the 1981 MLB Draft pitching for the Cotuit Kettleers.


In 1980, the right-handed Darling was voted CCBL MVP, selected to the All-Star Game, and received the Outstanding Pro Prospect Award. Darling batted an impressive .366 with six home runs and 26 RBIs while going 4-3 as a pitcher.

His performance during the Kettleers' 1980 season left him revered as one of the best all-around players in Cape League history. According to an early scouting report from 1979, "Ron never played in one position long enough to tell which he was best at, but he excelled at all of them."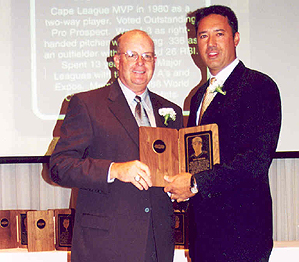 Ron Darling receives Hall of Fame plaque from his Cotuit coach, George Greer at the Hall of Fame ceremony at Chatham Bars Inn, November 2002. Both Greer and Darling are in the CCBL Hall of Fame. Both now work for the NY Mets organization.
CCBL Photo 2002
"Ron was an outstanding and versatile player," said CCBL President and long-time Ron Darling fan Judy Walden Scarafile. "He had a nickname when he played in the league. We called him AW, which stood for All-World because he could do absolutely everything and play everywhere."

After a summer on the Cape, Darling returned to Yale and secured his place in college baseball history. In the 1981 NCAA playoffs, Darling faced St. John's and future major league standout pitcher Frank Viola. Before Yale lost in the 12th inning, Darling pitched an impressive 11 no-hit innings. His performance remains the longest no-hitter in NCAA history.

The Honolulu, Hawaii, native has also taken a turn at acting in several movies including "Clubhouse," "The Day After Tomorrow," "Mr. 3000," "The Last Great Infomercial" and the popular "Shallow Hal," where he played the role of "Handsome Li'l Boy."

Darling was selected in the first round (ninth overall) of the 1981 MLB draft by the Texas Rangers, but his career exploded in 1982 when he was traded to the New York Mets.

His most outstanding season was during the Mets' 1986 championship run. That year, his ERA dropped to 2.81, which ranked third best in the National League.

Darling stayed with the Mets until 1989, when he was traded to the Montreal Expos for Tim Burke and sent packing later that year to the Oakland Athletics, where he remained until the end of his career in 1995.

During his 13-year career he amassed a 136-116 won-loss record, including 1,590 strikeouts and a 3.87 ERA.

His standout season on the Cape opened a world of opportunities for Ron Darling. In his role as an analyst for the New York Mets, he will be able not only to provide unique commentary from a former player's perspective, but also to convey his passion for the Mets organization.
But for fans of the 1980 Cotuit Kettleers, Darling will remain a college standout whom they were lucky enough to see in person before he began his long road to fame. In 2002 he was recognized for his outstanding summer with the Kettleers by being inducted into the CCBL Hall of Fame.
Information from www.newyorkmets.com and www.kettleers.org was used in this article.
By Courtney Reilly, CCBL Intern, [email protected]