League News
05/15/2006 3:13 PM
Article By:
for immediate release: 15 May, 2006
U.S. Military All-Stars Invade Cape Cod
During Red, White and Blue Tour of America
CAPE COD, Mass. -- For the second straight season, the U.S. Military All-Stars will take on a contingent of Cape Cod Baseball League players as part of their Red, White and Blue Tour of America.
Presented by Bank of America, the CCBL will host two exhibition games: Saturday, June 10 at Veterans Field in Chatham at 7 p.m. and Sunday, June 11 at Lowell Park in Cotuit at 4 p.m.

In addition, the U.S. Military All-Stars will host a free children's baseball clinic on Saturday, June 10 at Veterans Field in Chatham from 1-3 p.m. and again Sunday, June 11 at McKeon Park in Hyannis from 12-2 p.m. Both clinics are sponsored by Bank of America.

"On behalf of the U.S. Military All-Stars, I'd like to thank the Cape Cod Baseball League for hosting us June 10-11 in conjunction with our 'Red, White and Blue Tour of America' competing in exhibition games against the finest professional, independent and summer collegiate talent in the world, highlighted by the Cape Cod Baseball League," said USN Lt. Commander Terry Allvord, General Manager.

Chatham A's field manager John Schiffner will coach the CCBL squad during the game at Veterans Field, while Cotuit Kettleers' skipper Mike Roberts will manage the CCBL squad for the second game at Lowell Park.

Now in its 17th season, this historic program has had over 20,000 active duty and reserve personnel participate. Based in San Diego and recognized as the fastest growing, largest and only "Joint" armed forces baseball organization in the world, they feature players from all branches of the military.

Since 1990, there have been over 30 military teams formed in all service, and the U.S. Military All-Stars serve as the organizational model worldwide. In 2005, as in previous years when our country is at war, over 90 percent of the players have served one or more tours in Iraq or Afghanistan. For this reason, U.S. Military players and staff personally cover their own expenses.

To support their heroic efforts here in the U.S., the Military All-Stars execute an extensive travel schedule of mare than 150 public appearances in support of charities that help our veterans. Their team has compiled a 520-194 overall record of .728 against professional, semi-pro, and collegiate teams.

In 2006, the Military All-Stars will compete against some of the finest pro and NCAA-sanctioned summer collegiate organizations in the nation during its 46-game "Red, White and Blue Tour of America" including the CCBL, Golden, Southwest Pacific, Semiprofessional, New England Collegiate, California Collegiate, Coastal Plain, Atlantic, Central Plain, Western, and Semiprofessional Baseball Leagues and the Horizon Summer Series.

"The generosity of the Cape Cod Baseball League, Diamond Baseball and the Barnstable Bat to help offset the expenses to our personnel, especially our lower ranking players, is greatly appreciated," said Allvord. "It makes me proud to see the lengths that our armed forces personnel will undertake to support our brave men and women overseas. I am deeply humbled by the true spirit of our personnel and Americans like the people in the Cape League who work within an organization with the willingness to work harder and the confidence to support our unique vision throughout the United States to help us accomplish our mission in 2006."

Care packages to be sent to U.S. soldiers in Afghanistan and Iraq will be collected by the CCSOSW-Seaside Chapter during both games.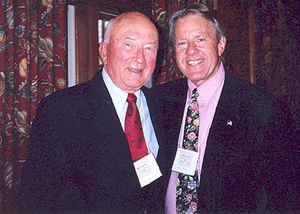 Richard Sullivan, Citizen of the Year
with Dave Willard from Cape Cod 5 Charitable Foundation
Dick Sullivan Named Citizen of the Year
The Chatham-Nauset Lions Club announced that its 2006 Citizen of the Year is Richard "Dick" Sullivan, the CCBL's Deputy Commissioner and past president and commissioner. The award will be presented to Sullivan at a dinner at Chatham Bars Inn on May 24 at 6 p.m.
Cape League Corporate Sponsors For 2006
The top 15 major corporate sponsors for the Cape League 's 2006 season are Chatham Bars Inn, Yawkey Foundation, Bank of America, KeySpan, Coca-Cola Bottling of Cape Cod, Ocean Spray, 99 Restaurants, Cape Cod Potato Chips, Shields MRI, Sullivan Tire, Blue Cross Blue Shield of Mass., Eye Health Services, Curry College, Baseball Factory and Yellowbook. Also, Major League Baseball continues to support the Cape Cod Baseball League with a grant. Overall, there are 40 current sponsors of the CCBL.

CCBL Has No Immediate Plans For Expansion
Following a recent Cape Cod Baseball League meeting, it was decided that although the League has no immediate plans to expand, it will look into establishing specific criteria and conduct a feasibility study to serve as guidelines for any possible expansion in the future. With the 2006 season fast approaching, it is likely this project to establish a "blueprint for possible expansion" will resume after the completion of the 2006 baseball season.

Harwich Mariner Tim Lincecum Breaks Pac-10 K Mark
Former Harwich Mariners flamethrower Tim Lincecum of Washington struck out 16 batters to become the Pac-10's career strikeouts leader. Lincecum outlasted another CCBL standout, Oregon State All-American Dallas Buck (Falmouth), as the No. 22 Huskies beat fifth-ranked OSU 6-4 last week.
Lincecum (11-2), the nation's leader in strikeouts and victories, finished the game with 460 career K's to surpass the all-time Pac-10 record of 449, set by USC's Rik Currier in 1998-2001. The junior right-hander struck out the side in order in the second and fifth innings. He also fanned four in the eighth, thanks to a third-strike wild pitch. In his eight innings, he allowed four runs on five hits, walking five.
During the summer of 2005, Lincecum (2-2) led the CCBL with a sparkling 0.69 ERA – ninth best in modern league history – and struck out 68 batters in 39.1 innings while allowing 11 walks.
The win improved the Huskies to 31-17 overall and 9-7 in Pac-10 play while Oregon State fell to 32-11 and 9-4. It was just the third loss in 22 home games this season for the Beavers. Lincecum was named national player of the week by Collegiate Baseball.

HACC Executive Director to Sing National Anthem at Fenway
Monica Parker, Executive Director of the Hyannis Area Chamber of Commerce, will sing the National Anthem at Fenway Park on Cape League All-Star Recognition Night, Thursday, August 3, before the Kansas City Royals vs. Boston Red Sox game !

Harwich To Host NCAA Baseball Regional
Whitehouse Field, home of the Harwich Mariners, will again be the site for the 2006 NCAA Division III New England Baseball Regional Championship from May 17 to May 21.
The ECAC will partner with the Cape Cod Chamber of Commerce Sports Committee and CCBL on this event. The expected seven-team field will be announced by the NCAA on Monday, May 15.
One of eight regional tournaments across the country, the New England regional will feature area Division III institutions that have been selected to the tournament by winning their conference championship or as an at-large team. The winner of the regional tournament advances to the Division III World Series. Game day times and Tournament Schedules are available on the ECAC website.
New England conferences receiving automatic bids into the championship include the Commonwealth Coast, Great Northeast Athletic, Little East, MASCAC, NESCAC and NEWMAC.
Top contending teams include Wheaton, Western New England, Salem State, Keene State, Bowdoin, St. Joseph's (ME), Trinity and Southern Maine. Wheaton won a school-record 24 straight games.
St. Joe's features 6'5" southpaw Charlie Furbush, who will pitch his second straight summer for the Hyannis Mets in 2006 and led the Mets in innings pitched and K's in 2005.

Around the Horn
The next CCBL Board of Directors meeting will be held Wednesday, May 31 at 6:30 p.m. at the Chatham Bars Inn. The meeting/reception will be held in the newly-renovated Boat House.
There will be a meeting for all Cape League Internet broadcasters and public address announcers on Wednesday, June 14 from 5-6 p.m. at the Comfort Inn in Hyannis.