League News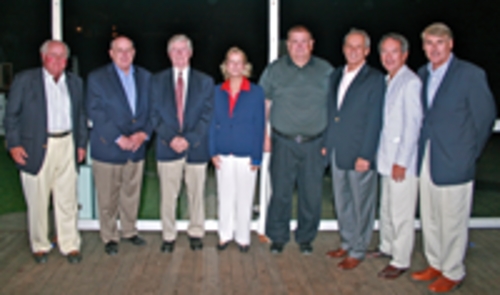 09/26/2010 2:18 PM
Article By:
CHATHAM ---- Boston Red Sox president/CEO Larry Lucchino and former Red Sox manager Joe Morgan were featured speakers recently at a fund-raising event for the Cape Cod Baseball League last week at the Chatham Bars Inn.
More than 200 attended the 3rd annual "Gentlemen's Smoker," which serves as the major fund-raiser for the best amateur baseball league in the country.
The event, featuring a reception, surf-&-turf dinner and major auction items, moved from the South Lawn tent location to the boathouse, where attendees enjoyed an evening of food, drink, choice cigars, and lively conversation. Thousands of dollars were raised for the league through ticket sales, silent and live auctions, as well as donations at this one-of-a-kind function.
Lucchino and Morgan offered interesting remarks and rewarded many questions from the audience with gifts from the Red Sox, including autographed memorabilia such as baseballs and shirts.
The Chatham Bars Inn has been an idyllic Cape Cod family vacation retreat noted for its excellent service, fine cuisine and beautiful surroundings since 1914. The Inn is nestled near the heart of Chatham on 25 beautifully landscaped acres overlooking Pleasant Bay and the Atlantic Ocean and features an expansive lounge, front veranda and main dining room that have been returned to their original grandeur, affording panoramic ocean views and gentle sea breezes.
"Once again, we were absolutely thrilled with the outstanding job Chatham Bars Inn did in hosting this fund-raising event," CCBL president Judy Walden Scarafile said. "We enjoyed our best attendance ever and having Larry Lucchino and Joe Morgan from the Red Sox was the frosting on the cake."