League News
01/18/2007 12:49 PM
Article By:
for immediate release: 18 January, 2007
Cape League Deputy Commissioner Sol Yas
Captained Walk For Autism Research

CAPE COD, Mass. – For the fifth consecutive year, Cape Cod Baseball League Deputy Commissioner Sol Yas captained a team in the Greater Boston Walk for Autism. Yas' team, Walk-Off with Adrian, in honor of his 8-year-old grandson Adrian, received over $8000 in donations ($43,000 in 5 years), and all teams combined to raise over $900,000 for autism research.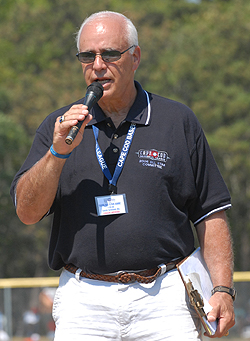 Sol Yas
CCBL / swilson
"We used a baseball theme this year, and as Captain, I was also the team's "Big Papa."

"Walk-off with Adrian" had over 40 walkers, wearing colorful baseball shirts, partially funded by Advanced Embroidery of Hyannis, among the thousands that walked around the Charles River on a beautiful Fall day.

Contributors to Walk-Off with Adrian, included baseball players (members of the Men's Senior Baseball League), umpires (from the South Shore Umpires Association, the College Baseball Umpires Association of New England and the CCBL), league, team and sponsor representatives from the CCBL, as well as many friends and family.

Autism Speaks and the National Alliance for Autism Research which sponsor walks throughout the country, have combined to form the largest research organization in the U.S. looking for answers to the terrible disorder known as autism.

One out of every 160 newborn is afflicted with a form of autism, so efforts to find a cure have intensified. President George Bush recently signed a bill providing $1 Billion to be directed specifically for autism research.

"I have enjoyed many years working with CCBL volunteers, coaches and players, but nothing is more satisfying to me than doing my very small part in raising awareness about autism, and seeing my grandson's progress due to the strides being made in autism therapy," said Yas.

Another Cape League official, Peter Troy of the Chatham A's, is co-founder of Melmark New England in Andover, Mass., The Melmark School, where Peter is Executive Vice-President, offers day and residential special education services to children and adolescents ages 3 to 21 with learning difficulties and/or challenging behaviors secondary to a diagnosis of Autism Spectrum Disorder, Acquired Brain Injury, Mental Retardation and mild to profound Cerebral Palsy and/or Neurological Disorders. Peter has worked in the field of autism for over 25 years, having worked for many years with the May School in Chatham.

Autism is a neuro-developmental disorder that manifests in delays of "social interaction, language used in social communication, or symbolic or imaginative play," with onset prior to age three. It is often not obvious in outward appearance and individuals who have autism are usually not physically indistinguishable from those without.

Individuals diagnosed with autism vary in skills and behaviors and certain stimulations, such as sounds, lights, and touch, may affect them differently than someone without.

Most autistic children have difficulty learning to engage in everyday human interaction and seem indifferent to other people, lacking eye contact and interaction with others that non-autistic children are expected to exhibit. Between 18 months and 2 years, however, skills previously mastered disappear, including language and social skills.

Autistic children prefer being alone and may accept such things as hugs and cuddling without reciprocating. They seldom seek comfort or respond to parents' displays of anger or affection in a typical way. They differ significantly in these areas of social attachment and interaction.

Many children with autism experience social alienation during their school-age years. Making friends in real life and maintaining those friendships often proves to be difficult for those with autism. It is common for autistics to have difficulty regulating their behavior, resulting in crying, verbal outbursts, or self-injurious behaviors.

Those who have autism generally prefer consistent routines and environments, and they may react negatively to changes in their surroundings. It is not uncommon for these individuals to exhibit aggression, increased levels of self-stimulatory behavior, self-injury, or extensive withdrawal in overwhelming situations.