League News
06/03/2007 1:43 PM
Article By:
for immediate release: 7 June, 2007
Seven Cape League Players
Taken in Major League Baseball Draft's First Round

CAPE COD, Mass. – CAPE COD, Mass- The first nationally-televised Major League Baseball Draft on ESPN saw seven Cape Cod Baseball League alumni taken in the first round alone -- an impressive number considering only 19 of the first 30 picks were college players.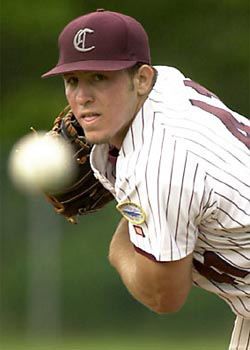 Daniel Moskos, Cotuit 2005
SportsPix / 2005
The top Cape League player picked was 2005 Cotuit Kettleer Daniel Moskos, formerly of Clemson, taken by the Pittsburgh Pirates with the fourth pick.

The Baltimore Orioles were the next pick (fifth overall) and took power-hitting catcher Matt Wieters of Georgia Tech. Wieters played for the Orleans Cardinals last year and has hailed comparisons to Joe Mauer, who won the American League batting title in 2006. Wieters was number two in the Cape League last year in both home runs (8) and batting average (.307).

Ross Detwiler and Matt LaPorta made it four straight CCBL alumni taken in the top 10, going number six to the Nationals and number seven to the Brewers, respectively. Detwiler pitched for Falmouth last year while Laporta, a first baseman, was fifth in the league in slugging percentage at .463 for Brewster and also played for Y-D three summers ago.

Although the Boston Red Sox didn't have a pick in the first round, there was still a celebration in the Boston dugout as Beau Mills, son of Red Sox bench coach Brad Mills, was drafted by the Cleveland Indians at number 13 overall. The younger Mills played for the Bourne Braves in 2005 and for Lewis and Clark State this past spring.

Next to go at No. 14 overall was one of the dominant pitchers in the league last season in James Simmons, who was taken by the Oakland Athletics as their top pick. Simmons had a miniscule 1.18 ERA, third in the league, in 53.1 innings pitched for the Cotuit Kettleers last year.
The last CCBL alumni to go in the first round was also the last pick of the opening round, held by the New York Yankees, and was used to pick up hard- throwing Andrew Brackman who played for Orleans in 2006.

With hundreds of CCBL alumni already having successful Major League careers there is no reason to believe that this round of players will be any different.

Beginning its 123rd season in 2007, the 10-team Cape League originated in 1885 with individual town teams, was reorganized into the Cape Cod Baseball League in 1923 with teams in Chatham, Falmouth, Hyannis and Osterville and is now the premier collegiate baseball summer league in the country.

A total of 198 former Cape Leaguers currently perform in the major leagues, including former Cy Young Award winner Barry Zito (Wareham '97-'98), former MVP Frank Thomas (Orleans '88), former AL batting champion Nomar Garciaparra (Orleans '93), World Series MVP Darin Erstad (Falmouth '96) and current Boston Red Sox captain Jason Varitek (Hyannis '91 & '93).

Cape League alumni of yesteryear include Baseball Hall of Famer Harold "Pie" Traynor (Falmouth '19), former New York Yankee greats Red Rolfe (Orleans '30) and Thurman Munson (Chatham '67), Cy Young Award winner Mike Flanagan (Falmouth '72), Rolaids Fireman-of-the-Year Jeff Reardon (Cotuit '74-76), former AL MVP Mo Vaughn (Wareham '87-88), long-time major league scout Lennie Merullo (Barnstable '35) and major league manager of the year Nat "Buck" Showalter (Hyannis '76).
Kevin Wolfe CCBL Intern, ([email protected])