League News
12/05/2007 3:49 PM
Article By:
New Cape League Hall of Famer Honored by His Hometown
Saradnik's Name Added to Natick High School's "Wall of Achievement"
CAPE COD, Mass. – Steve Saradnik will long remember November 2007. On Nov. 3, the former all-star second baseman for Chatham was one of nine men inducted into the Cape Cod Baseball League's Hall of Fame in ceremonies held at the Chatham Bars Inn.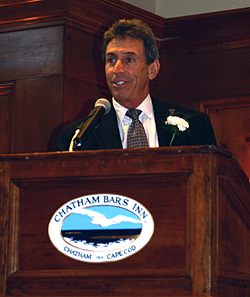 Hall of Fame inductee, Steve Saradnik
3 November 2007
Photo by T. Underwood
Just over two weeks later, on Nov. 20, he was honored by his hometown Natick, Mass., when his name was among eight added to the school's prestigious "Wall of Achievement." Another 2007 inductee was former football great and current ESPN college football analyst Doug Flutie.

It was the 12th year for the honor, which is bestowed upon Natick graduates who after high school make significant contributions to society in their chosen fields. Over the years, the list has included Broadway writers, actors, athletes, lawyers and doctors.

Saradnik, a member of Natick's Class of 1964, earned his B.A. at Providence College, where he starred on the diamond for four years and captained the Friars as a senior. During those summers, he was a four-year All-Star second baseman at Chatham, where his Cape League performance helped earn him a contract with the Seattle Pilots (now the Milwaukee Brewers). He played in their organization in 1969 and 1970.

He joined the Natick School System as a teacher in 1970 and spent 10 years as a teacher-coach at Coolidge Junior High School before being named to the faculty at Natick High School, where he also continued to coach. In 2000, he was elevated to chairman of the school's Social Studies Department, and in 2003 he retired.

The Saradniks now make their year-round home in Tucson, Ariz., where Steve finds time for golf and softball and his wife, Lena, serves as a State Representative.

Activities on induction day included a casual breakfast at the school for those being honored. The group spent the rest of the day speaking to various classes throughout the building. That evening, a formal dinner was followed by the induction ceremony, MC'd by another Natick graduate, television personality Susan Warnick.

"The nice part about the evening," Saradnik said, "was that Lena was able to attend, something she was not able to do earlier in the month." Mrs. Saradnik had been forced to miss the Cape League event in Chatham because she was confined to Cape Cod Hospital, where she was taken the previous night after she suffered a stroke.

She has been recuperating at the Boston-area home of the Saradniks' daughter and receiving treatment at the Spaulding Rehabilitation Hospital. "If one has to have such an experience, then this is the city where it should happen," Saradnik said. He praised the care and therapy Mrs. Saradnik received while at Spaulding and as an out-patient on a daily basis after her release about two weeks ago."

The Saradniks were scheduled to fly back to Arizona Wednesday, Dec. 4. Mrs. Saradnik, who "is doing extremely well," according to her husband, plans to resume her duties when the new legislative session commences in mid-January.

Saradnik's community involvement includes serving on the Board of Directors of Cohen Hillel Academy, Marblehead, and the Board of Directors of Temple Shalom in Salem. He also chaired the Fundraising Committee of the Jewish Federation of the North Shore. Since settling in Tucson, he has served on the Fundraising Committee of the Jewish Federation of Southern Arizona and the Leadership Committee of Temple Emanu-El in Tucson.
Joe Sherman, CCBL Web Editor
([email protected])