Pitcher/Player of the Week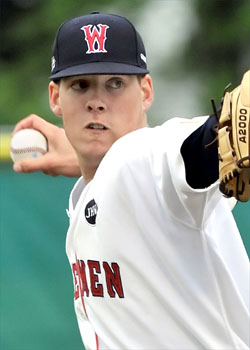 Luke Farrell / Photo by SportsPix 2011
COCA COLA PITCHER OF THE WEEK:
Luke Farrell, Wareham RHP
The first Pitcher of the Week of 2011 is a name that may sound familiar, Luke Farrell (Northwestern). Farrell went the distance versus Brewster this week, giving up only an unearned run while striking out five. Farrell earned the win in the 2-1 victory.
Luke is a junior from Northwestern. The 6'6 prospect recorded a 3.33 earned run average and a 6-3 record for the Wildcats last year. Like is a two-time USA baseball participant, and has also pitched on the St. Louis Cardinals scout team.
Farrell is the son of former Boston Red Sox pitching coach John Farrell, who coached the staff from 2007 to 2010. He stayed within the AL East this season, moving on to a well-deserved managerial position with the Toronto Blue Jays.
Baseball runs deep in the Farrell gene pool: In addition to Luke, John's son Jeremy plays in the Pittsburgh Pirate's farm system, and his other son, Shane, is a pitcher at Marshall.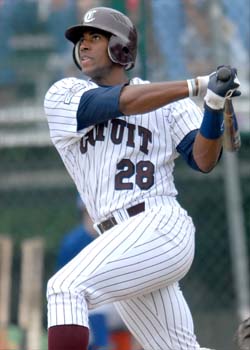 Victor Roache / Photo by SportsPix 2011

COCA COLA PLAYER OF THE WEEK:
Victor Roache, Cotuit OF
Cotuit's Victor Roache (Georgia Southern) has slugged his way to being named this summer's first Player of the Week. Roache filled up the stat sheet this week, batting .421 while hitting two home runs and driving in seven. Roache's week was punctuated by a 2-2 performance against Bourne, where he walked twice, homered, and drove in three.
Roache is a sophomore at Georgia Southern. His summer totals to date are impressive, batting .379 with four doubles and nine runs batted in, to go along with the two homers that he hit this week. The right fielder/designated hitter is as disciplined as hitters come; he has more walks (nine) than strikeouts (six) this season.