Pitcher & Player of the Week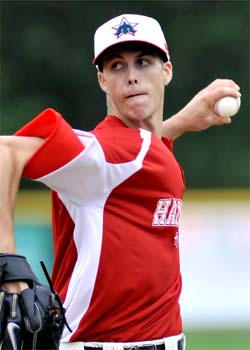 Taylor Rodgers / Photo by SportsPix 2011


COCA COLA PITCHER OF THE WEEK:
Taylor Rogers, Harwich RHP
Taylor Rogers (Kentucky) has earned this week's honor for leading his team to a 1-0 victory over Orleans on Saturday. Rodgers threw seven innings of two-hit ball, striking out two and walking none.
The shutout performance lowered Rogers' earned run average to a paltry 2.14. He is 2-2 on the season, but has pitched two shutouts and not given up more than three runs in a start this season.
Rogers is a sophomore at Kentucky. He is a promising prospect, and quickly established himself as a force to be reckoned with in the SEC, leading the Wildcats in innings pitched in his freshman year. Rogers was selected by the Orioles in the 37th round of the 2009 Major League Baseball draft.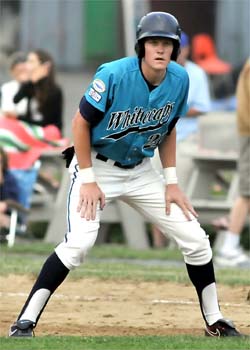 Jason Monda / Photo by SportsPix 2011


COCA COLA PLAYER OF THE WEEK:
Jason Monda, Brewster OF
Brewster leadoff hitter extraordinaire Jason Monda (Washington State) is this week's Coca Cola Player of the Week. Monda recorded at least two hits in all but one of his team's contests this week, highlighted by a two-for-three performance against Harwich that included a triple and two stolen bases.
Monda has a .375 batting average this season. That mark would tie him for the Cape League lead, but Monda's at-bat total is just short of qualifying him for the race.
Monda just completed his freshman year at Washington State, where his father also played baseball. He is a draftee of the Colorado Rockies, who selected him in the 32nd round of the Major League Baseball draft following his senior year of high school.